[VIDEO] Biggest and Baddest Mining Equipment
1 min
For people unrelated to the mining industry, the term "mining equipment" often conjures up thoughts of bulldozers and small-scale excavators...
For people unrelated to the mining industry, the term "mining equipment" often conjures up thoughts of bulldozers and small-scale excavators. That couldn't be further from the truth.
The mining industry is full of lean, mean, giant machines. The sector employs some of the largest machines the world has ever seen, and they're only getting bigger. From trucks and excavators to draglines and scoopers, we reveal the biggest and baddest mining machinery in the mining industry.
Largest excavator
The world's largest mining machine is the Bagger 293 bucket wheel excavator. This piece of machinery, which looks straight out of a Transformers movie, is seriously frightening. Thank god it doesn't have legs! 
At 3 4.9 feet tall, 738.2 feet long and weighing roughly 31.3 million pounds, the 293 is beyond massive. In addition to needing five people to opearte, the Bagger 293 has the ability to move 8.510 million cubic feet of earth per day.
Largest dump truck
In terms of large mining dump trucks, the Belaz 75710 hits the jackpot. This behemoth of a truck  is 20.6 meters long, 8.16 meters high and 9.87 meters wide, providing a payload capacity of 496 tons. Launched in 2013, the ultra-heavy dump truck features two 16-cylinder turbocharged diesel engines with a power output of 2,300 HP.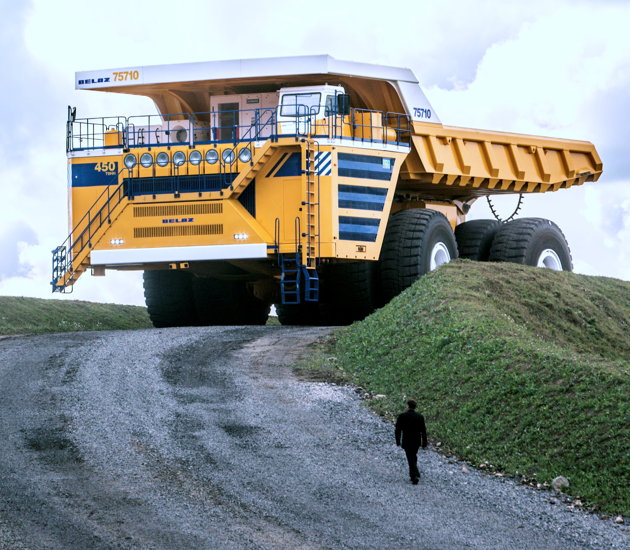 Net zero benefits the mining industry and the environment
3 min
Learn how to future proof your business for a zero-carbon world with help from Emitwise and the Oren Marketplace...
How do we get the world to net-zero faster?
Emitwise's founders, Mauro Cozzi, Eduardo Gómez and Ben Peddie, approached a network of more than 100 of the world's largest enterprises and asked their CEOs, CFOs, and sustainability managers the big question: How do we get the world to net-zero faster? The challenge many shared was the lack of timely and accurate emissions data to enable strategic decisions. Companies often relied on annual audits of their carbon footprint for carbon accounting purposes. However, static yearly results were outdated upon publishing.
Emitwise saves companies an average of 260 working days a year by automating their scope 1, 2 and 3 emissions data. With the added benefits of clean audit trails and auto-populated accounting reports in line with GHG Protocol, all at the click of a button. Their easy to use solution enables businesses to quickly identify the carbon hotspots to target, and the precise real-time data empowers teams to remain agile and respond effectively, making achieving those goals possible.
Unique AI Technology
Emitwise's unique AI technology empowers businesses to automatically measure, report and reduce their carbon footprint across their operations and supply chain, future-proofing companies for a zero-carbon world. It is the only solution that enables companies to fully automate their carbon accounting across all business units and suppliers, therefore liberating them from the drudgery of collecting and processing emissions data.
By using artificial intelligence to precisely measure emissions in real-time, businesses can identify and tackle carbon hotspots swiftly, enabling them to devise a trackable roadmap to net-zero carbon. At the same time, accurate audit trails and auto-populated annual reports ensure that companies comply with international reporting requirements, and align businesses with global climate targets to mitigate risk across their operations and supply chain. 
The Oren Marketplace
Environmental management, social license to operate, safety, renewable energy to lower emissions and operational efficiency for mining can be supported by a range of digital solutions enabling dynamic operations. To address these issues, Shell and IBM joined forces to create the Oren Marketplace – the first B2B solutions platform for the mining sector. 
With the adoption of many of the digital solutions offered through Oren, mining companies can adapt in real-time to risks or adjust plans ahead of a problem occurring. The goal is a shift towards proactive management as the optimal outcome for all stakeholders – community, shareholders, and employees.
Emitwise was founded with the goal of helping industries across all sectors reduce their carbon footprint. Similarly, Shell aims to become a net-zero emissions energy business by 2050, or sooner, in step with society and its customers. And Oren is focused on offering innovative products and services that can help mining companies track and reduce their emissions. 
"Oren is the starting point for how we help our mining customers to de-carbonise," explains Carol Chen, Global Lubricants Marketing, Vice President, Shell. "It's our ambition to work with sectors like mining to help them find their own pathway to net-zero emissions through collaboration. The Oren marketplace offers a great opportunity for collaboration between the miners and technology companies that are joining this digital marketplace." 
Web Summit
Emitwise will be showcasing its vision for a net-zero future live from Lisbon at this year's Web Summit. Bringing together the people and companies redefining the global tech industry, the online event welcomes 100,000+ attendees from around the world to hear from more than 800 speakers and view offerings from 2,500 startups covering a vast range of topics from Data Science and Climate Change to AI and Machine Learning. To find out more and book your ticket visit  
Emitwise is one of many solutions providers on the Oren platform seeking to address the pain points and environmental concerns of heavy industries like mining. To discover a range of solutions that can further support your operation's digital transformation and commitment to sustainability, visit the