Six mine development projects of 2016
3 min
Earlier this month, Rio Tinto approved a $338 million iron-ore development of its Silvergrass mine in Australia. Though the development is still subject...
Earlier this month, Rio Tinto approved a $338 million iron-ore development of its Silvergrass mine in Australia. Though the development is still subject to approvals by the Western Australian state government, we take a look at six of the biggest mine development projects so far in 2016.
Vimy Resources, Mulga Rock project, Australia

The Mulga Rock project, located in the Great Victoria Desert of Western Australia, is expected to produce 1,360 tonnes per annum of uranium oxide as revealed in a pre-feasibility study in 2015. The site is the third largest undeveloped uranium deposit in Australia. The site received some good news earlier this year – receiving environmental approval from the Environmental Protection Agency (EPA)
The Project is expected to result in the creation of approximately 490 new jobs in Western Australia and to create payments of around A$19m per year to the State government in the form of royalty payments and payroll tax. The amount of uranium produced if used in nuclear reactors to displace coal fired electricity would offset more than 50 million tonnes of carbon dioxide equivalent emissions which is around 10%.

Nord Gold, Gross Mine, Russia
The Russian Gross mine, from Nord Gold, will require an approximate $250 million of capital as part of the company's Gross Project. The project follows an extensive exploration programme to identify the Gross deposit and its reserves. The next stage of the project will see the construction of a low-cost large-scale Gross construction which is estimated to produce up to 230 thousand ounces of gold per year over a 17-year mine life, with first production expected in 2018. Construction officially started on the mine in June this year.
Rio Tinto , Oyu Tolgoi, Mongolia


Rio Tinto announced that it had approved of the $5.3bn development of the Oyu Tolgoi copper and gold mine in Mongolia in May this year. The project will see the company increase its copper output to 500,000 tonnes annually, with the current output at the mine around 175,000-200,000 tonnes per annum. First production at the newly developed underground mine is expected in 2020, with construction beginning this year.
Sirius Minerals, Potash Mine, UK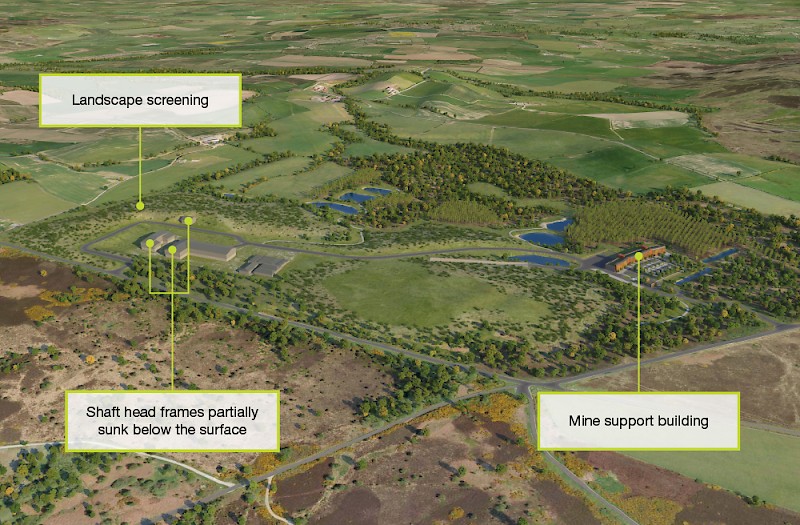 The £2.4bn development of will be the largest Potash mine in the UK with the end goal of being a "world leader in the fertilizer industry". Located in North Yorkshire, the deposit contains the largest, highest grade resource of polyhalite found anywhere in the world. The project will be developed in phases, with phase one capable of producing ten million tonnes per annum, creating the foundations for doubling production to 20 Mtpa. The project will also see a £2.3 billion annual contribution to UK GDP. The mine has received approval for plans by the North York Moors National Park authority in June this year, and has been given an estimated production date of 2021.

Codelco, Chuquicamata open pit copper mine, Chile


The Chuqui Underground project will see a complete transformation of a mine that dates back to 1915. Owners Codelco will invest $4.2billion in developing 143 km of tunnels, 19km of conveyer belts with the capacity to haul 150,000 mt/day of crushed rock 900 metres up to the surface. By extending the current open pit into an underground mine, Codelco has extended the mine life of Chiquicamata to at least 40 years. Production estimates show the mine to produce 140,000 t/d of ore, resulting in a production of 360,000 mt/y of fine copper and in excess of 18.000 mt/y of molybdenum.

Rio Tinto, Silvergrass mine, Western Australia
Last up we look at the titular Silvergrass mine development. Rio Tinto again – the company will invest an incremental $338 million to complete the development of Silvergrass as part of its Pilbara iron ore operations in Western Australia. The development will see the replacement of road haulage with a primary crusher and a more efficient 9km conveyor system that will link Silvergrass to the existing processing plant at the nearby Nammuldi mine.
Ericsson Private 5G to transform secure on-site connectivity
3 min
Ericsson Private 5G is a next-gen private cellular 4G & 5G network tailored to drive Industry 4.0 and the digital transformation of industries like mining
Ericsson has launched Ericsson Private 5G. It offers secure and simple 4G LTE and 5G Standalone (SA) connectivity primarily targeting manufacturing, mining and process industries, offshore and power utilities, as well as ports and airports.
Ericsson
Ericsson Private 5G optimizes and simplifies business operations with cloud-based network management, keeps sensitive data on-premise, has zero downtime upgrades and guarantees high performance through Service-Level Agreements (SLAs).
It is easily installed within hours at any facility and can be scaled to support larger coverage areas, more devices and higher capacity when needed. The product is designed to be flexible and will support a range of deployment sizes, depending on requirements, to suit varied needs. Businesses can manage their networks and integrate with IT/OT systems via an open API.
5G
Ericsson Private 5G builds upon Ericsson's 4G/5G radio and dual mode core technology, enabling a wide variety of use cases for both indoor and outdoor environments while integrating well with business operations, devices and applications. As a result, companies can improve productivity, give their customers more value and provide better working environments for employees.
Innovative use cases include tracking assets and real-time automation to improve productivity in warehouses, and a digital twin that can help to optimize manufacturing operations. Efficient quality inspections can also be performed via augmented reality or smart surveillance drones to increase worker safety, particularly in potentially hazardous environments such as ports and mines.
Boliden
Ericsson already has a significant track record of operational 4G and 5G private network deployments with customers worldwide. Ericsson Private 5G builds on the success of that solution portfolio and deployment insights, as well as insights from projects such as 5G-Industry Campus Europe.
Peter Burman, Program Manager Mine Automation, at Swedish mining company Boliden, commented: "Automation, and safety through automation in our mining operations is an absolute must for us. Ericsson Private 5G is exactly what Boliden needs to bring high quality, fast and secure connectivity into potentially hazardous environments allowing us to mobilize efficiency and safety improving use cases.
Niels König, Coordinator 5G-Industry Campus Europe, Fraunhofer Institute for Production Technology IPT added: "Private 5G networks are highly attractive for producing companies because of the uncompromised performance that 5G can bring, allowing them to tackle the challenges of production. Efficiently deploying and using network solutions in enterprises requires simplicity in installation, flexibility in connecting to existing production IT and lean operations while at the same time being able to scale the network to meet future challenges. Ericsson Private 5G delivers exactly these capabilities."
Enterprise Networks
Leo Gergs, Senior Analyst, ABI Research, noted: "With this new offering, Ericsson will be able to address key trends in the enterprise cellular market.  The value proposition will appeal to operators and service providers as the solution hides technology complexity and therefore reduces the barrier of entry to deployment for many different flavors of enterprise networks."
Thomas Noren, Head of Dedicated Networks, Business Area Technologies and New Businesses, Ericsson, revealed: "With Ericsson Private 5G, we take the best of Ericsson's current portfolio and top it up with the best of our new technology. We do this to give businesses what they need to improve productivity, enable new offerings and give employees a better working environment. With Ericsson Private 5G, we also give operators a better way to serve business customers and leverage their assets - in short, to grow beyond mobile broadband."
Ericsson recently joined a three-year initiative to develop autonomous, carbon-neutral mining processes supported by 5G connectivity. Funded by the EU's Horizon 2020 research and innovation program, the $16mn Next-Generation Carbon-Neutral Pilots for Smart Intelligent Mining Systems (NEXGEN SIMS) project is being coordinated by Swedish mining and infrastructure equipment manufacturer, Epiroc, in cooperation with a range of industry-diverse partners, including: Ericsson, K+S, Boliden, Agnico Eagle Finland, KGHM Polska and Luleå University of Technology.