Six mine development projects of 2016
3 min
Earlier this month, Rio Tinto approved a $338 million iron-ore development of its Silvergrass mine in Australia. Though the development is still subject...
Earlier this month, Rio Tinto approved a $338 million iron-ore development of its Silvergrass mine in Australia. Though the development is still subject to approvals by the Western Australian state government, we take a look at six of the biggest mine development projects so far in 2016.
Vimy Resources, Mulga Rock project, Australia

The Mulga Rock project, located in the Great Victoria Desert of Western Australia, is expected to produce 1,360 tonnes per annum of uranium oxide as revealed in a pre-feasibility study in 2015. The site is the third largest undeveloped uranium deposit in Australia. The site received some good news earlier this year – receiving environmental approval from the Environmental Protection Agency (EPA)
The Project is expected to result in the creation of approximately 490 new jobs in Western Australia and to create payments of around A$19m per year to the State government in the form of royalty payments and payroll tax. The amount of uranium produced if used in nuclear reactors to displace coal fired electricity would offset more than 50 million tonnes of carbon dioxide equivalent emissions which is around 10%.
 
Nord Gold, Gross Mine, Russia
The Russian Gross mine, from Nord Gold, will require an approximate $250 million of capital as part of the company's Gross Project. The project follows an extensive exploration programme to identify the Gross deposit and its reserves. The next stage of the project will see the construction of a low-cost large-scale Gross construction which is estimated to produce up to 230 thousand ounces of gold per year over a 17-year mine life, with first production expected in 2018. Construction officially started on the mine in June this year.
Rio Tinto , Oyu Tolgoi, Mongolia


Rio Tinto announced that it had approved of the $5.3bn development of the Oyu Tolgoi copper and gold mine in Mongolia in May this year. The project will see the company increase its copper output to 500,000 tonnes annually, with the current output at the mine around 175,000-200,000 tonnes per annum. First production at the newly developed underground mine is expected in 2020, with construction beginning this year.  
Sirius Minerals, Potash Mine, UK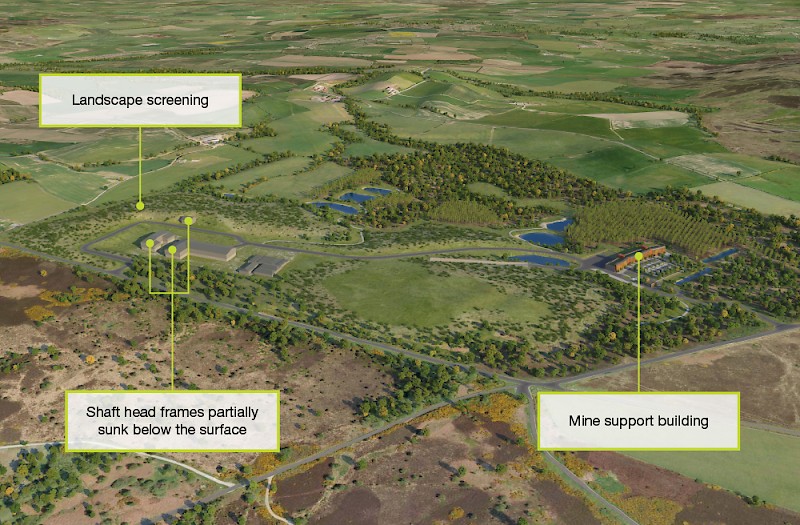 The £2.4bn development of will be the largest Potash mine in the UK with the end goal of being a "world leader in the fertilizer industry".  Located in North Yorkshire, the deposit contains the largest, highest grade resource of polyhalite found anywhere in the world.  The project will be developed in phases, with phase one capable of producing ten million tonnes per annum, creating the foundations for doubling production to 20 Mtpa. The project will also see a £2.3 billion annual contribution to UK GDP. The mine has received approval for plans by the North York Moors National Park authority in June this year, and has been given an estimated production date of 2021.

Codelco, Chuquicamata open pit copper mine, Chile


The Chuqui Underground project will see a complete transformation of a mine that dates back to 1915. Owners Codelco will invest $4.2billion in developing 143 km of tunnels, 19km of conveyer belts with the capacity to haul 150,000 mt/day of crushed rock 900 metres up to the surface. By extending the current open pit into an underground mine, Codelco has extended the mine life of Chiquicamata to at least 40 years. Production estimates show the mine to produce 140,000 t/d of ore, resulting in a production of 360,000 mt/y of fine copper and in excess of 18.000 mt/y of molybdenum.

Rio Tinto, Silvergrass mine, Western Australia
Last up we look at the titular Silvergrass mine development. Rio Tinto again – the company will invest an incremental $338 million to complete the development of Silvergrass as part of its Pilbara iron ore operations in Western Australia. The development will see the replacement of road haulage with a primary crusher and a more efficient 9km conveyor system that will link Silvergrass to the existing processing plant at the nearby Nammuldi mine.
Zimbabwe targets £8.8bn mining industry by 2023
3 min
Government plans to fast-track exploration, evaluation and digitalisation of selected reserved mining areas...
Zimbabwe's government plans to fast-track exploration, evaluation and digitalisation of selected reserved mining areas under the Ministry of Mines and Mining Development as part of wider measures to achieve a £8.8 billion mining industry by 2023, according to a senior government minister.
Information Minister Monica Mutsvangwa said other plans include stopping the issuance of special grants in the reserved areas under the Ministry of Mines and Mining Development until the exploration and evaluation is complete and a robust value addition program for diamonds is implemented. 
Mutsvangwa was speaking at a post-cabinet media briefing on December 15.
She adds that the issuance and renewal of special grants for energy should also be based on the financial and technical capacity to value add all types of coal, as well as for ideal exploration of Coal Bed Methane.
For renewal of special grants, consideration should take into account the period the Special Grant has been held as well as plans with milestones for value addition of the special grant, Mutsvangwa says. She adds that the Zimbabwean government expects gold to drive the mining sector in order to achieve the ambitious target, with the precious metal expected to contribute approximately £2.96 billion to the overall target.
Mining is one of Zimbabwe's major contributors to its economy, alongside agriculture, which is the mainstay. The mining sector accounted for more than 60 percent of the country's foreign currency receipts in 2019, and contributed around 16 percent to national Gross Domestic Product, the Chamber of Mines says.
The country's mining industry is focused on a diverse range of small to medium mining operations. The most important minerals produced in Zimbabwe include gold, asbestos, chromite, coal and base metals.
Zimbabwe expects its economy to expand by 7.4 percent in 2021 from a projected contraction of 4.5 percent this year, due to the effects of drought and the COVID-19 global pandemic.
When presenting the 2021 National Budget in November this year, Finance and Economic Development Minister, Professor Mthuli Ncube, said that the mining sector is projected to rebound by 11 percent next year after surviving a COVID-19 induced shock that saw the sector contract by 4.7 percent in 2020. In September, mining bans in national parks were introduced, according to news agencies.
He added that the National Budget would allocate £1 billion towards the operations of the ministry for planning, promotion and exploration, data capturing, and automation, among other key mining processes.
Other factors necessary for the achievement of the £8.8 billion target include a stable macroeconomic environment, policy consistency, and availability of long-term capital to fund mining projects along the entire mineral value chain, the minister said. 
Stopping "illicit financial flows" from gold smuggling is another key issue to address, according to media reports.