3 Things the Mining Industry Could Learn from Kobe Bryant
4 min
The mining sector should be more like Kobe Bryant. Since his professional debut in 1996, Kobe Bryant has become the biggest figure in the NBA. His count...
The mining sector should be more like Kobe Bryant. Since his professional debut in 1996, Kobe Bryant has become the biggest figure in the NBA. His countless records speak for themselves:
• 5-time NBA champion
• 7 NBA Finals appearances
• 2-time NBA Finals MVP
• NBA Most Valuable Player
• 2-time scoring champion
• 16-time NBA All-Star
• 4-time NBA All-Star Game MVP
• 15-time All-NBA Team selection
• 12-time All-Defensive Team selection
• NBA Slam Dunk Contest champion
But after tearing his Achilles tendon in the 2013 season (missing 76 games), many people believed the Black Mamba would never return to the player he once was. The mining industry, which is suffering from the lowest commodity prices in years, is facing the same criticism.
Here are 3 things the mining sector could learn from Kobe Bryant:
1.) Remain aggressive (capitalize on weakness)
Kobe Bryant's competitive edge is 24/7. He competes all day, everyday, whether it's basketball, investment deals, pick-up games or parenting. He does not settle for mediocrity.
Bryant's tenacity is the same tenacity mining companies should have in their operational game plans. Companies like BHP Billiton, Rio Tinto, Newmont Mining and Freeport-McMoRan need to remain aggressive no matter what the odds are.
Despite lower-than-expected gold, iron ore and coal prices, companies should continue to attack. Miners need to take charge, capitalize on the market's weak prices, and show the industry who is boss.
A small anecdote on Kobe's aggressive persona was recorded by Kevin Ding, a senior NBA writer for Bleach Report:
2.) Be resilient, come back from injury (weak prices) stronger
On Tuesday night, the 36-year old entered his 19th season with the Los Angeles Lakers. The superstar, who battled back from a torn Achilles tendon he suffered last year, has been plagued with major injuries through the years, putting an immense amount of wear and tear on his body. Thanks to this infographic, we can see which parts of Kobe's body have suffered the most.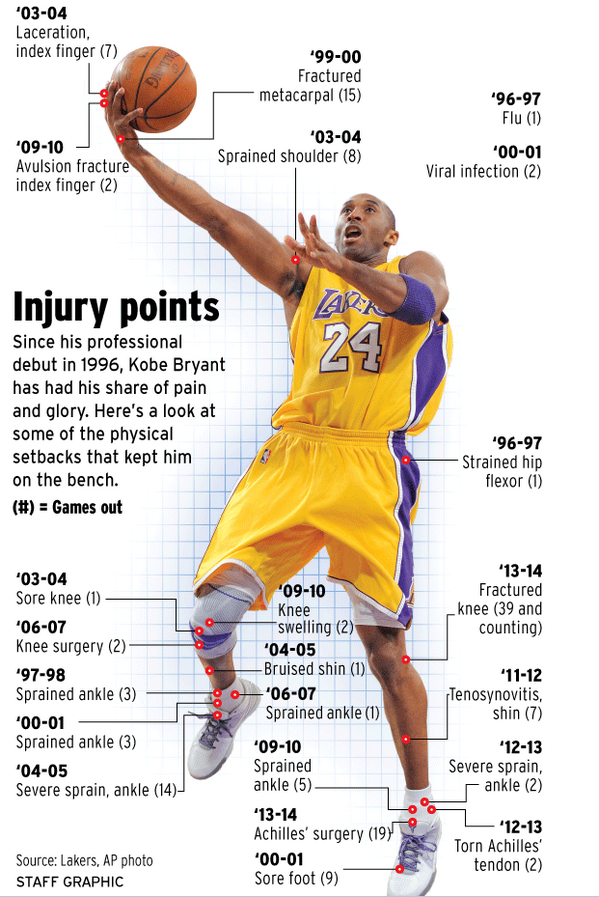 Despite the injuries, one of Bryant's biggest attributes is his ability to be resilient. He's shown the ability to bounce back from injury after injury, no matter what age, and succeed. Although the Lakers lost the game on Tuesday night, Bryant outshined when nobody said he could. The mining industry should do the same.
This video serves as a reminder for obstacles/failures that everyone will inevitably face. But the key is to step up, keep moving, keep fighting, and get better.
Kobe has shown us that not only are drive and focus important, but he's also shown us that we are far greater than our challenges. Too often, we succumb to our setback and forget about our dreams, our ambitions and our goals. Yet, setbacks are merely setups for comeback. Facing a challenge doesn't mean it's time to throw in the towel, it means that it's time to come back even stronger.
3.) Stay motivated (continue to invest)
Like Kobe, the mining industry should be fueled by naysayers.
In an interview earlier this year, Bryant told a radio station that proving those who had a lack of faith in the Lakers and his recovery wrong is what fuels him.
"You've got to appreciate that and enjoy that and use that as fuel as motivation to basically just shut everybody the hell up," Bryant told the station. "It's that challenge, that challenge that drives us all, I think, and definitely keeps me going."
Mining companies need to remain motivated. While commodity prices aren't where they should be, companies need to continue to invest.
Rio Tinto, which is currently implementing the final phase of its Mine of the Future™ initiative, continues to invest. Why? Because they know the payoff will eventually hit.
Kobe Bryant has already proven himself. The five-time champion is already wealthy beyond belief, a lock to be a Hall of Famer, and a lock to be in the Top 50 players of all-time. Kobe, however, still feels like there's something for him to prove.
Although the game of basketball and the mining industry aren't the same thing, the competitiveness is. When you look at how Kobe commits himself to succeeding; when you see how he thrives under adversity and how he pushes himself day in and day out, the mining sector could learn a lot about that type of motivation. The fire which burns inside Kobe is his drive to be the best. It's what separates him from the rest.
The mining industry needs to be more like Kobe Bryant.
DRC selects Fortescue to develop giant hydro project
3 min
Democratic Republic of Congo's (DRC's) government working with Fortescue Metals Group to develop Grand Inga hydroelectric power project
Democratic Republic of Congo's (DRC's) government said on Tuesday Fortescue Metals Group would develop the Grand Inga hydroelectric power project, including a 4,800-megawatt dam that has already been committed to Chinese and Spanish developers.
Fortescue to develop dams for world's largest hydroelectric project
Australia's Fortescue confirmed it was in talks with Congo to develop a series of dams that could become the world's largest hydroelectric project, but it said no formal binding agreement had been concluded.
Fortescue's involvement is the latest twist in Congo's decades-long quest to expand Inga, whose two existing dams - completed in 1972 and 1982 - have a combined installed capacity of nearly 1,800 MW.
The proposed expansion of six more dams would bring capacity to over 40,000 MW, roughly double the size of China's Three Gorges dam, currently the world's largest. Total development costs have been estimated at up to $80bn.
In 2018, a Chinese consortium that includes China Three Gorges Corporation and a Spanish consortium that includes AEE Power signed a deal with Congo's government to develop the third dam, known as Inga 3.
Ground has yet to be broken on Inga 3 because of questions over its financial viability. Alexy Kayembe De Bampende, President Felix Tshisekedi's top infrastructure advisor, said the project would now be led by Fortescue.
"Fortescue will be the sole operator for the entire Grand Inga (3 to 8). Chinese & co are welcome to join Fortescue," he told Reuters."There has been discussion between Chinese (Three Gorges) & AEE and (Fortescue) since last year to work together."
Three Gorges and AEE Power did not respond immediately to requests for comment.
DRC's Grand Inga green energy project will create hundreds of thousands of jobs
In a memorandum of understanding signed between Fortescue and Congo in September 2020, Fortescue "acknowledges the existing potential rights held on Inga 3 by third parties".
"In the event that, for any reason, such rights to develop Inga 3 become available, the government of the DRC undertakes to secure for Fortescue Future Industries an exclusive first option to develop Inga 3," it said.
A senior official at the government's Agency for the Development and Promotion of Grand Inga (ADPI), speaking on condition of anonymity, said the ADPI had not been involved in the talks with Fortescue.
Fortescue chairman Andrew Forrest met Congo President Felix Tshisekedi on Sunday to discuss the project. Forrest said Fortescue would use the energy from Inga to produce hydrogen to export around the world.
"The capital cost of this will be many many tens of billions of dollars and direct and indirect employment will be in the hundreds of thousands," he told reporters.
Fortescue has said it plans to fund the majority of its green energy projects off its balance sheet, investing about $1bn a year of its own money.
Fortescue's statement was made in response to an article in the Australian Financial Review.
Meanwhile, Fortescue has teamed up with Hatch, Anglo American and BHP, to form a Green Hydrogen Consortium focused on ways of using green hydrogen to accelerate decarbonisation within their operations globally.