Vital Metals on track to become first REE producer in Canada
2 min
Australia's Vital Metals set to commence mining operations at the Nechalacho rare earths project in the Northwest Territories...
Vital Metals is preparing to start operations at its Nechalacho rare earths project in Canada's Northwest Territories. This will make it the country's firt producer of the elements used in magnets for electric vehicles, electronics and aerospace and defence manufacturing processes.
Following its mobilisation via the private Nechalacho ice road (a 110km long, 1.1m thick engineered ice road on the Great Slave lake from Dettah, Yellowknife Bay, NWT to the Nechalacho project at the Hearne Channel in Chief Drygees Territory) all plant and equipment, including an ore sorter and associated infrastructure, is set to arrive at site by the end of March in preparation for rare earth production.
Vital Metals' Managing Director Geoff Atkins commented: "We have been progressively achieving all the steps necessary to commence mining and rare earths production at Nechalacho over the past 12 months, and mobilisation of the mining fleet is another important milestone. 
"We are excited to be commencing operations at Nechalacho rare earth project and following our recent $43m raising, proud to be fully funded to become Canada's first rare earth producer."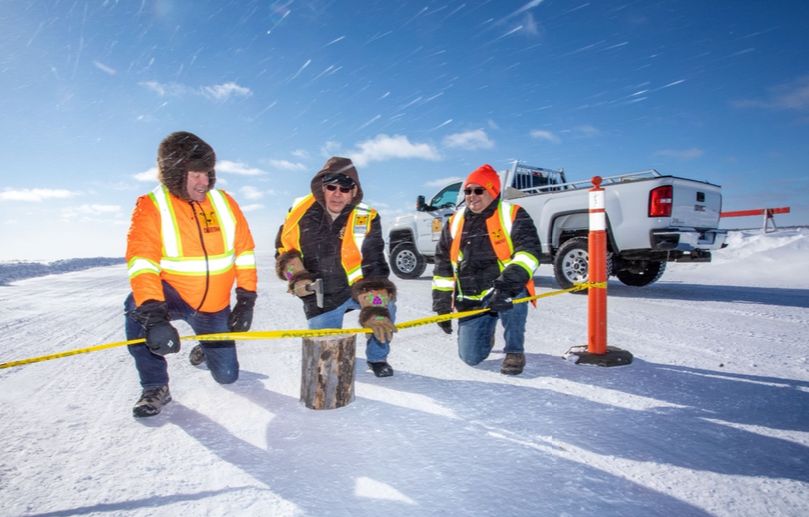 Vital's strategy is to develop Nechalacho in two stages. Stage 1 of the operations focuses on the North T Zone resource and Stage 2 will involve the development of the much larger Tardiff deposit. 
Det'on Cho Nahanni Construction will mine the North T Zone as a small open pit, with material transported to Vital's ore sorter on site at Nechalacho for sorting. This will create a product suitable for further processing off-site at Vital's rare earth extraction plant, to be constructed in Saskatoon, which will produce a mixed rare earth carbonate product for sale to separation facilities. 
Det'on Cho Nahanni Construction will undertake mining and crushing during a single campaign between March and September 2021, under the control and direction of Cheetah Resources. Mined ore will be stockpiled for use in ore sorting operations which will be undertaken by Cheetah personnel during the summer periods of 2021 to 2023. It is anticipated that a second mining campaign will be required in 2024 to replenish stockpiles.
Newmont acquires Canada's GT Gold in $325mn deal
2 min
Newmont has purchased the remaining 85.1% common shares of Canada's GT Gold to complete its buy out Gold in a deal worth $325mn
Newmont, the world's biggest gold miner, has acquired Canada's GT Gold in a deal worth $325mn. The gold giant now controls the Tatogga gold-copper project in the Traditional Territory of the Tahltan Nation.
GT Gold
"With the acquisition of GT Gold and the Tatogga project in the highly sought-after Golden Triangle district of British Columbia, Canada, Newmont continues to strengthen our world-class portfolio," commented Newmont President and CEO Tom Palmer.
"We look forward to continuing to build a respectful and meaningful relationship with the Tahltan Nation, including the community of Iskut. The relationships we have with Indigenous communities, First Nations and host communities are critical to the way we operate. We will partner with the Tahltan Nation at all levels, and with the Government of British Columbia to ensure a shared path forward as the Company understands and acknowledges that Tahltan consent is necessary for advancing the Tatogga project."
Newmont
Newmont's acquisition includes the Tatogga project, comprised primarily of the Saddle North deposit, which has the potential to contribute future significant gold and copper annual production. There are also further exploration opportunities beyond the known deposits at Saddle North within the land package. The Tatogga project adds to Newmont's existing interest in the prospective Golden Triangle through the company's 50% ownership in the Galore Creek project.
Newmont is the world's leading gold company and a producer of copper, silver, zinc and lead. A world-class portfolio of assets, prospects and talent is anchored in favourable mining jurisdictions in North America, South America, Australia and Africa. The American miner is celebrating its 100th anniversary this month.
Gold
With gold prices on the rise, the last six months has seen gold industry M&A activity accelerating. A recent Mckinsey report, advises that the industry need to be mindful of mistakes made during the previous gold price boom, when growth was chased unidirectionally by several companies.