Barrick Gold engages the digital world with the Unearthed hackathon
3 min
Canadian tech startups, entrepreneurs and innovators will have a unique opportunity to create the next generation of technologies for the mining industr...
Canadian tech startups, entrepreneurs and innovators will have a unique opportunity to create the next generation of technologies for the mining industry at the first Unearthed hackathon in Toronto. Taking place from 3-5 March, Unearthed Toronto will feature multiple industry challenges from global mining companies including Barrick Gold.
"Barrick is in the early stages of a digital transformation, integrating technology and data into everything we do," said Richard Williams, Chief Operating Officer, Barrick. "Innovation is a critical element of this process and events like Unearthed Toronto reflect Barrick's open and collaborative approach to finding new and better ways to mine. We look forward to working with the talented developers who will be at the hackathon here in our hometown of Toronto, and we are excited to see the results."
Unearthed is a global organisation driving innovation in the resources industry, working with mining and resource companies to address industry challenges and support the development of future innovations. Since 2014, Unearthed has connected over 2000 innovators to resource industry challenges through hackathons and online challenges.
"We are excited to put Toronto's innovators to the test against global mining challenges. Developers, programmers, data scientists, engineers and other innovators will not have a bigger opportunity to get in front of and impact the mining industry than at Unearthed," said Mikey Kailis, Growth Manager, Unearthed.
Disruptive technologies in the form of cloud technologies, automation, artificial intelligence, machine learning, big data analysis and the internet of things are set to drastically impact the mining industry in the near future. It is through events such as hackathons where the mining and resources industry can come together with the tech innovation community to embrace this coming wave of disruption.
The hackathon will take place at Canada's leading technology skills accelerator Bitmaker, which is now a part of General Assembly's global community.
"The mining industry is comparatively foreign to the developer community around the world. This shouldn't be the case. We are excited to host the first mining hackathon in Toronto at Bitmaker and connect local developers to global mining challenges," said Andrew Mawer, CEO and Co-Founder, Bitmaker.
It will be the first time that the Unearthed hackathon has taken place in Toronto, after being held in all capital cities around Australia, Cape Town and San Francisco.
"Toronto is a place where innovators can solve big and meaningful problems using technology. Having the global hackathon Unearthed coming to Toronto just illustrates this value and we look forward to seeing how Toronto's technology community helps bring disruption to the mining industry," said Chris Rickett, Manager, Entrepreneurship Services, City of Toronto.
Participants will be aided by subject matter experts from the respective mining companies as well as tech experts from the startup community and global tech companies such as Amazon Web Services.
At the conclusion of the hackathon, teams will present their final solutions to a distinguished judging panel where prize money, tech credits and support will be awarded. Winning solutions will also be a major talking point at the PDAC convention, taking place the week after the Unearthed Toronto hackathon.
Unearthed runs open innovation initiatives for the resources sector all around the world. Previous Unearthed events have taken place all around Australia, in Cape Town and in San Francisco. Details on Unearthed and its events can be found at www.unearthed.solutions
The January 2017 issue of Mining Global is live!
Follow @MiningGlobal
Get in touch with our editor Dale Benton at [email protected]
Battery-powered future depends on a few crucial metals
2 min
Meeting the rising demand for lithium-ion batteries depends on lithium, cobalt and nickel production...
In the big, exciting future that's measured in kilowatt- and gigawatt-hours, batteries are enabling mass electrification across many sectors. The rapid decline in battery prices has ensured burgeoning interest from electric-vehicle makers and consumer-electronics manufacturers- even from the energy industry, for enormous stationary storage systems operating on the power grid.
Companies such as QuantumScape Corp. are developing next-generation batteries that could accelerate the transition. The field is so competitive that the industry is shrouded in secrecy, but the market still values the company at more than $16bn despite no promise of real revenue for many years to come.
It will be years before any battery breakthroughs reach the mass market. But it's already virtually certain that rising demand for existing lithium-ion batteries will be exponential and can be matched by manufacturers only if the materials used to make batteries - primarily lithium, cobalt , and nickel - are also supplied adequately. These curves will become steeper in the decade ahead. Take a look at the charts below that show where things are headed.
Batteries
Electrification has become a key theme for automakers in the US and Europe. While it was barely mentioned a decade ago, company executives are increasingly talking up batteries and electric vehicles to investors.
Lithium
The rapid decline of battery costs over the past decade has surprised even the most optimistic analysts. That has played a crucial role in opening up new markets for batteries to find applications.
Electric Vehicles
Electric cars will be the biggest force behind the boom in demand for batteries this decade. But batteries will also increasingly be used for smaller vehicles like scooters, commercial vehicles and to store electricity from the grid.
Investment
The decline in battery prices have helped grow the investment case for storing electricity. Companies and financial firms are now investing over $100 billion a year on energy storage and the electrification of transportation.
Energy
All the energy stored in a growing number of batteries will require a significant increase in a few key metals, lithium, cobalt and nickel.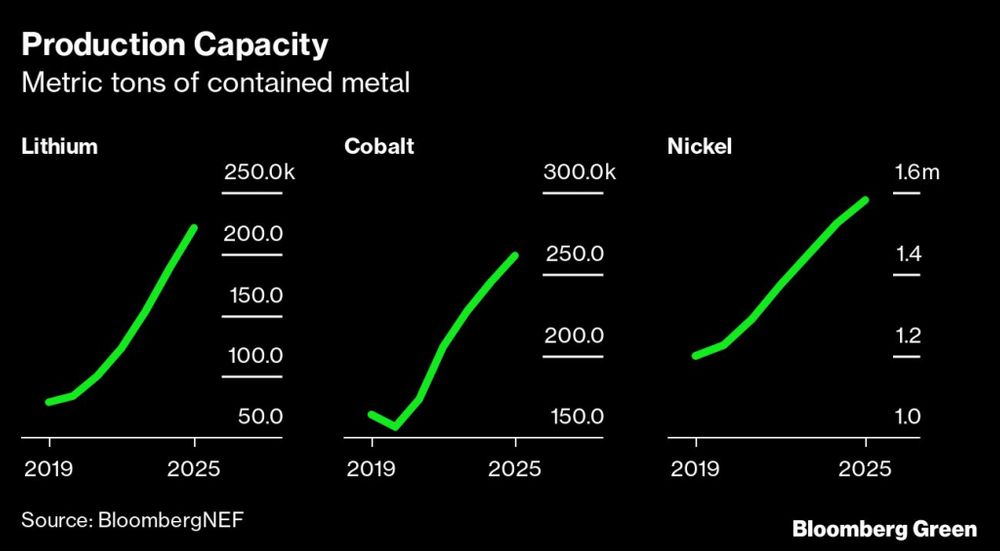 (By Will Mathis and Akshat Rathi)