Gold Fields launches innovation challenge, offers $10k for new algorithm
2 min
South African miner Gold Fields is the latest company seeking to bring together the brightest minds in order to solve one of its toughest questions.

Th...
South African miner Gold Fields is the latest company seeking to bring together the brightest minds in order to solve one of its toughest questions.
The company has launched the Ore-X Innovation Challenge, a contest to develop an image processing algorithm to classify material in a gold mine as high, medium or low grade or, or waste.
The contest carries a first prize of A$10,000 (US$7,100), second prize of A$1,500 and third prize A$500.
The challenge will consist of two parts--processing the image to find features, and then estimating the overall grade. Contestants who submit their estimated grade and percentages and will be scored based on the number of correct answers.
• Related content: [VIDEO] Is crowdsourcing the next chapter in innovation?
The top five ranked submissions will then submit their algorithm, which will be assessed on accuracy of the results, including subjective criteria such as the classified images, code quality, and ease of integration.
The Ore-X Innovation Challenge will provide contestants with a dataset approximately 1.2GB in size, containing 218 images, each approximately 12 megapixels.  
Submissions are currently open and will close on September 25. Winners will be announced October 9.
Growing trend
Crowdsourcing initiatives have become a growing trend among companies in the mining industry. In June, Canadian miner Integra Gold Corp launched the Gold Rush Challenge, an innovative contest that allowed online prospectors to analyze and interpret 70 years of data to come up with a plan of making a major gold discovery.  The reward was $1 million.
• Related content: Psychology of safe mining: What mine managers need to know
"By giving the public access to this data, Integra hopes to tap into the collective brainpower of thousands of participants and save itself years of time and resources to identify high-potential exploration targets we likely wouldn't even know exist," said Integra Gold CEO Stephen de Jong.
Goldcorp held a similar challenge in 2000 that attracted over 1,600 participants and helped the company find roughly $6 billion in gold.
Stay connected! Follow us on Twitter and like us on Facebook 
Battery-powered future depends on a few crucial metals
2 min
Meeting the rising demand for lithium-ion batteries depends on lithium, cobalt and nickel production...
In the big, exciting future that's measured in kilowatt- and gigawatt-hours, batteries are enabling mass electrification across many sectors. The rapid decline in battery prices has ensured burgeoning interest from electric-vehicle makers and consumer-electronics manufacturers- even from the energy industry, for enormous stationary storage systems operating on the power grid.
Companies such as QuantumScape Corp. are developing next-generation batteries that could accelerate the transition. The field is so competitive that the industry is shrouded in secrecy, but the market still values the company at more than $16bn despite no promise of real revenue for many years to come.
It will be years before any battery breakthroughs reach the mass market. But it's already virtually certain that rising demand for existing lithium-ion batteries will be exponential and can be matched by manufacturers only if the materials used to make batteries - primarily lithium, cobalt , and nickel - are also supplied adequately. These curves will become steeper in the decade ahead. Take a look at the charts below that show where things are headed.
Batteries
Electrification has become a key theme for automakers in the US and Europe. While it was barely mentioned a decade ago, company executives are increasingly talking up batteries and electric vehicles to investors.
Lithium
The rapid decline of battery costs over the past decade has surprised even the most optimistic analysts. That has played a crucial role in opening up new markets for batteries to find applications.
Electric Vehicles
Electric cars will be the biggest force behind the boom in demand for batteries this decade. But batteries will also increasingly be used for smaller vehicles like scooters, commercial vehicles and to store electricity from the grid.
Investment
The decline in battery prices have helped grow the investment case for storing electricity. Companies and financial firms are now investing over $100 billion a year on energy storage and the electrification of transportation.
Energy
All the energy stored in a growing number of batteries will require a significant increase in a few key metals, lithium, cobalt and nickel.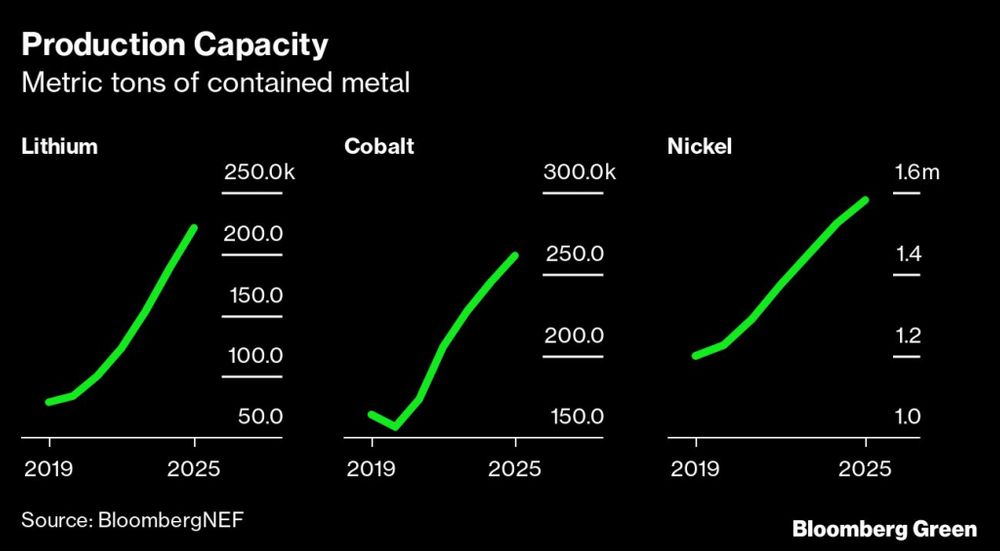 (By Will Mathis and Akshat Rathi)