Good lubrication, lowering costs and boosting profits - Shell study reveals all
3 min
Mining companies are significantly undervaluing the potential savings from effective lubrication, according to a new study by Shell Lubricants. While 60...
Mining companies are significantly undervaluing the potential savings from effective lubrication, according to a new study by Shell Lubricants. While 60percent of companies recognise they could reduce costs by 5 percent or more, fewer than 10percent realise that the impact of lubricants could be up to six times greater. For the mining industry in North America alone, this could mean potential savings in excess of $29.1 million.   
The Shell Lubricants sponsored research found that 96percent of mining companies report experiencing unplanned equipment shutdowns in the last three years, with over half (56percent) acknowledging this is due to their incorrect selection or management of lubricants. This is having a direct financial impact, at a time when cost competitiveness is a priority for mining companies.
The international study of mining companies across Asia, Europe and the Americas commissioned by Shell Lubricants reveals that many businesses do not realise that some of their critical operational factors can be significantly influenced by how lubricants are managed. For example, less than half realise that lubrication can influence unplanned down time, and 64percent are not clear about how extended oil drain intervals can generate cost savings.
Renée Power, the Shell Global Sector Manager for Mining, said; "40percent of the companies we surveyed estimated that they had incurred costs of at least $250,000 over the last 3 years from breakdowns due to ineffective lubrication. This shows potential for companies to achieve a significant boost to profits by working closely with a supplier like Shell Lubricants to improve equipment lubrication practices."
However, with maintenance managers facing budget and time constraints, and only 34percent of businesses making use of regular visits from their lubricant supplier's technical staff, most are not well equipped to take action. The study revealed that only 41percent of companies have all the recommended procedures in place to manage lubricants effectively and 59percent recognise they don't conduct staff training on lubricants as regularly as they should. Misconceptions about lubricants are also evident, with 44percent believing that all lubricants and greases provide the same level of performance.
Renée Power commented; "The impact of lubrication on Total Cost of Ownership is too often underestimated. Almost half of companies surveyed wouldn't expect to see a reduction in maintenance costs resulting from lubrication, but we have helped deliver over $44 million in savings to mining companies over the last five years. Longstanding experience in the mining sector enables Shell Lubricants to identify potential opportunities for lubrication to deliver significant business value. We work closely with customers to help them reduce operating costs and enhance equipment productivity by looking after the lubrication needs of their machinery – not just selecting the right product, but providing guidance so that it can be properly managed."
"We are very aware that companies are under pressure to limit costs and often looking for immediate results. Achieving extended oil drain intervals, for example, is one way that customers can realise cost savings almost as soon as they upgrade their lubrication. As the oil or grease lasts longer, less frequent re-greasing or oil changes are required, helping reduce overall cost of lubrication."
Shell Lubricants has released a whitepaper to address some of these issues, and set out how profits can be gained by effective lubrication practices, firstly by selecting the right lubricant or grease for each application and, secondly, effectively managing the on-going use and application of the lubricant.
The January 2017 issue of Mining Global is live!
Follow @MiningGlobal
Get in touch with our editor Dale Benton at [email protected]
Battery-powered future depends on a few crucial metals
2 min
Meeting the rising demand for lithium-ion batteries depends on lithium, cobalt and nickel production...
In the big, exciting future that's measured in kilowatt- and gigawatt-hours, batteries are enabling mass electrification across many sectors. The rapid decline in battery prices has ensured burgeoning interest from electric-vehicle makers and consumer-electronics manufacturers- even from the energy industry, for enormous stationary storage systems operating on the power grid.
Companies such as QuantumScape Corp. are developing next-generation batteries that could accelerate the transition. The field is so competitive that the industry is shrouded in secrecy, but the market still values the company at more than $16bn despite no promise of real revenue for many years to come.
It will be years before any battery breakthroughs reach the mass market. But it's already virtually certain that rising demand for existing lithium-ion batteries will be exponential and can be matched by manufacturers only if the materials used to make batteries - primarily lithium, cobalt , and nickel - are also supplied adequately. These curves will become steeper in the decade ahead. Take a look at the charts below that show where things are headed.
Batteries
Electrification has become a key theme for automakers in the US and Europe. While it was barely mentioned a decade ago, company executives are increasingly talking up batteries and electric vehicles to investors.
Lithium
The rapid decline of battery costs over the past decade has surprised even the most optimistic analysts. That has played a crucial role in opening up new markets for batteries to find applications.
Electric Vehicles
Electric cars will be the biggest force behind the boom in demand for batteries this decade. But batteries will also increasingly be used for smaller vehicles like scooters, commercial vehicles and to store electricity from the grid.
Investment
The decline in battery prices have helped grow the investment case for storing electricity. Companies and financial firms are now investing over $100 billion a year on energy storage and the electrification of transportation.
Energy
All the energy stored in a growing number of batteries will require a significant increase in a few key metals, lithium, cobalt and nickel.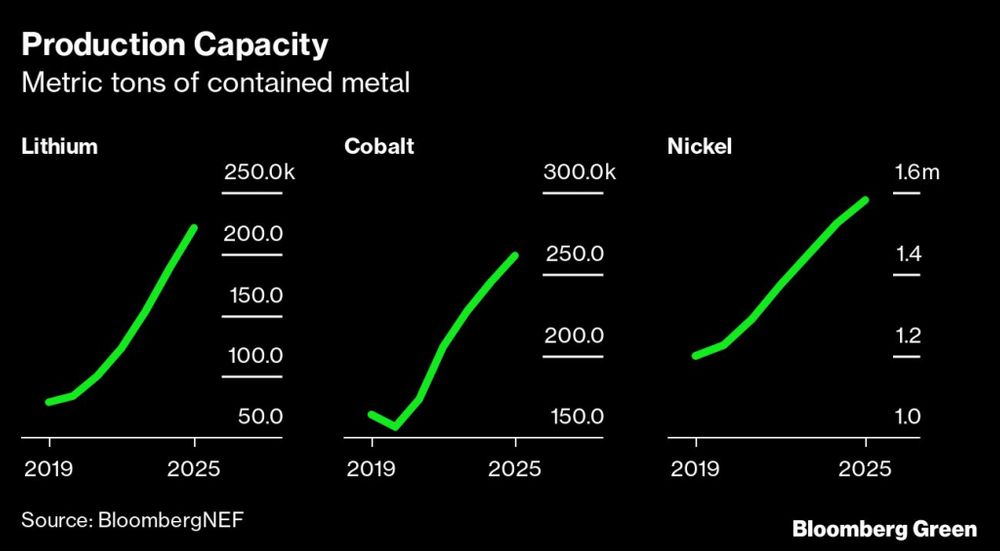 (By Will Mathis and Akshat Rathi)