Is the Internet of Things the next wave for the mining industry?
2 min
The mining industry is growing up. Traditionally a labor-intensive and brute business, the sector has progressed significantly over the last few years...
The mining industry is growing up. Traditionally a labor-intensive and brute business, the sector has progressed significantly over the last few years, adopting newer technologies and leaner practices to the way it operates.
The emergence of big data has allowed mining manufacturers to predict and eliminate potential problems in machinery by collecting infinite amounts of data from their equipment and transforming it into usable information. The Internet of Things (IoT) is expected to take things further.
• Related content: [INFOGRAPHIC] Moon mining: How it could work
The phrase "Internet of Things" is widely credited to Kevin Ashton while working at Proctor & Gamble in 1999.
Generally speaking, the IoT is a giant network of connected "things". Unlike most data, which is produced and consumed by people (text, audio, video), this information is produced and consumed by machines, communicating between themselves to make improvements. The futuristic concept aims to replace the human decision-making process through analytics.
Rio Tinto's Mine of the Future and Anglo American's FutureSmart initiative have clearly shown the Internet of Things is the direction the industry is headed.  
According to technology research consultant Gartner Inc., the number of connected products in the mining industry is expected to rise to 90 million in 2020 from 24 million in 2014. The 25 percent annual growth rate in mining connectivity is among the fastest among the industry sectors tracked by Gartner.
Equipment manufacturers are quickly jumping onboard. Caterpillar Inc. has already integrated its MineStar technology to manage everything from material tracking to sophisticated real-time fleet management, machine health systems, autonomous equipment systems and more. 
The manufacturer recently partnered with Uptake earlier this year to consolidate its suite of data-driven services under a new analytics and innovation division.
"We're not data scientists, but we're leveraging people who are," says Caterpillar's Greg Folley, vice president in charge of the analytics division. "With the mountain of data we're getting, if we manage it property, we can really turbocharge [machine] productivity."
What's next?
According to The Wall Street Journal, the Internet of Things is expected to provide new revenue streams to manufacturers by selling this unique information, which can be then be leveraged into additional services like sales of replacement parts, consulting services, etc.
 "All of a sudden, we have a whole new way of making money that doesn't rest on a customer throwing something out and buying new," says Michael Porter, a Harvard University business school professor. "You can fix it before it fails and get paid for that."
Like most things in life, technology is expected to take the mining industry into a new realm of productivity. 
Stay connected! Follow us on Twitter and like us on Facebook 
Battery-powered future depends on a few crucial metals
2 min
Meeting the rising demand for lithium-ion batteries depends on lithium, cobalt and nickel production...
In the big, exciting future that's measured in kilowatt- and gigawatt-hours, batteries are enabling mass electrification across many sectors. The rapid decline in battery prices has ensured burgeoning interest from electric-vehicle makers and consumer-electronics manufacturers- even from the energy industry, for enormous stationary storage systems operating on the power grid.
Companies such as QuantumScape Corp. are developing next-generation batteries that could accelerate the transition. The field is so competitive that the industry is shrouded in secrecy, but the market still values the company at more than $16bn despite no promise of real revenue for many years to come.
It will be years before any battery breakthroughs reach the mass market. But it's already virtually certain that rising demand for existing lithium-ion batteries will be exponential and can be matched by manufacturers only if the materials used to make batteries - primarily lithium, cobalt , and nickel - are also supplied adequately. These curves will become steeper in the decade ahead. Take a look at the charts below that show where things are headed.
Batteries
Electrification has become a key theme for automakers in the US and Europe. While it was barely mentioned a decade ago, company executives are increasingly talking up batteries and electric vehicles to investors.
Lithium
The rapid decline of battery costs over the past decade has surprised even the most optimistic analysts. That has played a crucial role in opening up new markets for batteries to find applications.
Electric Vehicles
Electric cars will be the biggest force behind the boom in demand for batteries this decade. But batteries will also increasingly be used for smaller vehicles like scooters, commercial vehicles and to store electricity from the grid.
Investment
The decline in battery prices have helped grow the investment case for storing electricity. Companies and financial firms are now investing over $100 billion a year on energy storage and the electrification of transportation.
Energy
All the energy stored in a growing number of batteries will require a significant increase in a few key metals, lithium, cobalt and nickel.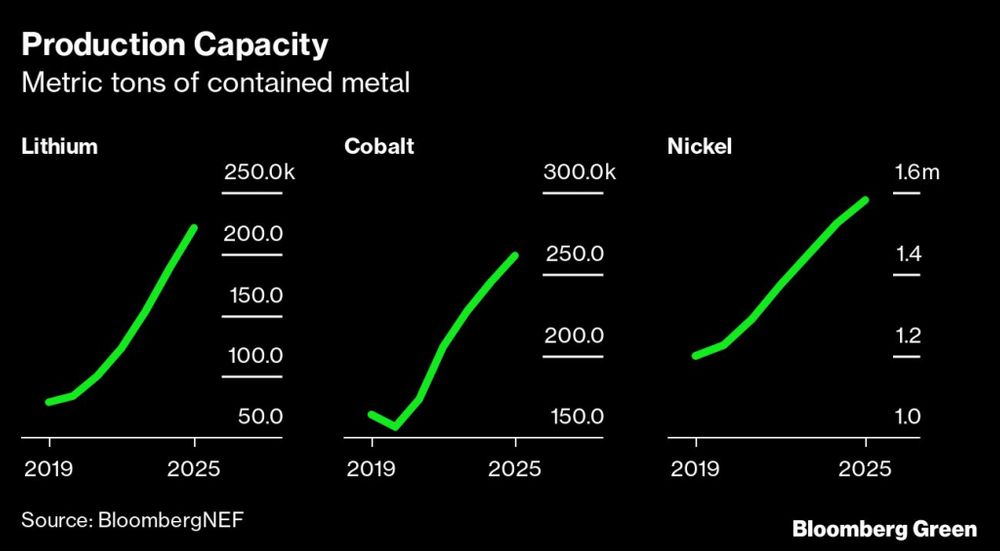 (By Will Mathis and Akshat Rathi)