Komtasu Rolls Out iPhone App for KOMTRAX
2 min
Japanese equipment maker Komatsu Ltd has introduced a new iPhone app to accompany its monitoring system KOMTRAX.Available through the Komtasu Australia...
Japanese equipment maker Komatsu Ltd has introduced a new iPhone app to accompany its monitoring system KOMTRAX.
Available through the Komtasu Australia website, the new app gives miners instant access to vital information on KOMTRAX equipped Komatsu machinery. With the touch of a button the app provides users with real-time updates on equipment fuel consumption, machine productivity, maintenance updates, and GPS location.
"Our new KOMTRAX app gives Komatsu customers the ability to monitor critical machine operating parameters, along with usage, performance and location, as well as overall fleet management," said Todd Connolly, Komatsu Australia's head of Fleet Management & ICT.
"By providing customers with valuable information regarding their Komatsu machines, it helps get a quick overview of what machines in their fleet have been up to – all via their iPhone."
Additional features for the new Komtasu app include standard equipment identification monitoring; hours of use; idle time identification; fuel usage monitoring; and an ability to identify any machines that have not been used through a 'no usage' function.
KOMTRAX, which comes installed on most Tier-3 Komtasu construction equipment, can also be installed in almost anything using a 12V or 24V electrical system. This makes it possible for the monitoring system and app to be retrofitted on older machines and non-Komtasu-equipment.
"Komatsu's KOMTRAX remote monitoring system was one of the first OEM-specific systems on the market, and has proven itself an invaluable tool in fleet and machine management," Connolly said.
"By combining KOMTRAX with the latest smartphone technology, customers are now able to monitor, check and manage their Komatsu equipment at any time of the day or night, from anywhere in the world."
Battery-powered future depends on a few crucial metals
2 min
Meeting the rising demand for lithium-ion batteries depends on lithium, cobalt and nickel production...
In the big, exciting future that's measured in kilowatt- and gigawatt-hours, batteries are enabling mass electrification across many sectors. The rapid decline in battery prices has ensured burgeoning interest from electric-vehicle makers and consumer-electronics manufacturers- even from the energy industry, for enormous stationary storage systems operating on the power grid.
Companies such as QuantumScape Corp. are developing next-generation batteries that could accelerate the transition. The field is so competitive that the industry is shrouded in secrecy, but the market still values the company at more than $16bn despite no promise of real revenue for many years to come.
It will be years before any battery breakthroughs reach the mass market. But it's already virtually certain that rising demand for existing lithium-ion batteries will be exponential and can be matched by manufacturers only if the materials used to make batteries - primarily lithium, cobalt , and nickel - are also supplied adequately. These curves will become steeper in the decade ahead. Take a look at the charts below that show where things are headed.
Batteries
Electrification has become a key theme for automakers in the US and Europe. While it was barely mentioned a decade ago, company executives are increasingly talking up batteries and electric vehicles to investors.
Lithium
The rapid decline of battery costs over the past decade has surprised even the most optimistic analysts. That has played a crucial role in opening up new markets for batteries to find applications.
Electric Vehicles
Electric cars will be the biggest force behind the boom in demand for batteries this decade. But batteries will also increasingly be used for smaller vehicles like scooters, commercial vehicles and to store electricity from the grid.
Investment
The decline in battery prices have helped grow the investment case for storing electricity. Companies and financial firms are now investing over $100 billion a year on energy storage and the electrification of transportation.
Energy
All the energy stored in a growing number of batteries will require a significant increase in a few key metals, lithium, cobalt and nickel.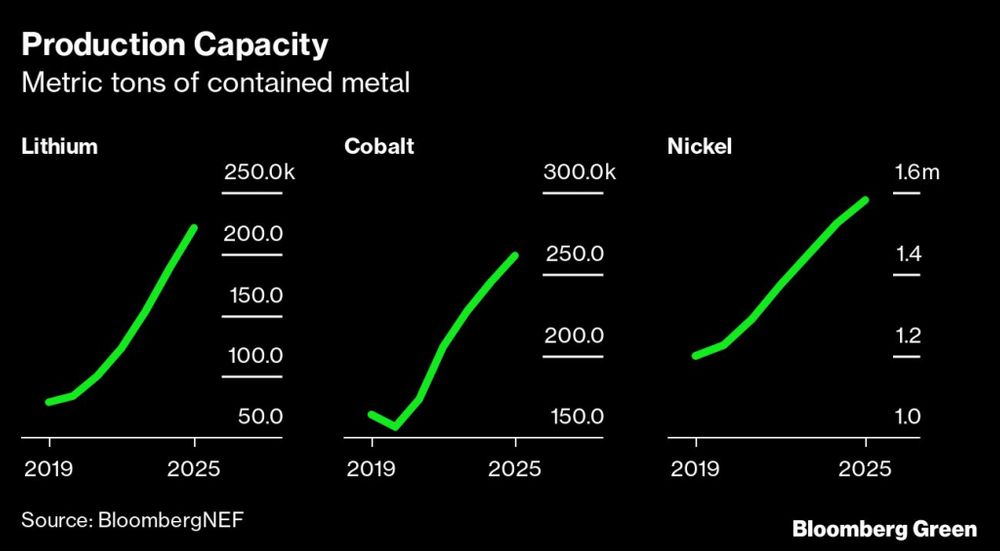 (By Will Mathis and Akshat Rathi)