Maptek and LlamaZoo to bring 3D and VR to mine planning with MineLifeVR
2 min
Two major technology solutions providers have joined forces to deliver advanced data visualisation in 3D and virtual reality to the mining industry.

Mi...
Two major technology solutions providers have joined forces to deliver advanced data visualisation in 3D and virtual reality to the mining industry.
Mining technology developer Maptek and experts in augmented reality LlamaZOO have entered into a collaborative partnership to bring MineLife VR.
MineLife VR fuses complex geospatial and mine planning data with IoT data into an interactive, life-sized virtual replica of the planned, current, and future states of a mine site.
'At Maptek we're all about building on our legacy of innovative approaches to how customers interact with their technical and operational mine models,' said Maptek Core Technologies Product Manager Chris Green.
Imagine viewing live data, such as trucks and shovels, loaded train cars and material stockpiles, in real-time. Displaying real-time grade control data over scheduling activities provides critical information in context,' added Green.
 
Related stories:
Greatland Gold utilises 3D mapping technology to identify large gold target at Firetower
Inmarsat and Auxilium join forces to deliver "the most effective IIoT" to the mining industry
Tracr blockchain platform for diamond industry appoints new general manager
Rio Tinto to invest $146million to create first "intelligent mine"
'Live and interactive simulation of scenarios via a digital twin of the real mining environment can provide surprising insights. Virtually a risk-free mode for decision-making
As award winning developers, LlamaZOO leverages developing and creating compelling, interactive 3D experiences from the gaming industry to solve real-world problems for innovative companies. 
'Users can explore an entire operation from source to port or facility, see hypothetical scenarios and real-time data, create a variety of presentation media such as 360-degree images, flight paths and export these to other more traditional media access points such as web,' said LlamaZOO CEO, Charles Lavigne.
Battery-powered future depends on a few crucial metals
2 min
Meeting the rising demand for lithium-ion batteries depends on lithium, cobalt and nickel production...
In the big, exciting future that's measured in kilowatt- and gigawatt-hours, batteries are enabling mass electrification across many sectors. The rapid decline in battery prices has ensured burgeoning interest from electric-vehicle makers and consumer-electronics manufacturers- even from the energy industry, for enormous stationary storage systems operating on the power grid.
Companies such as QuantumScape Corp. are developing next-generation batteries that could accelerate the transition. The field is so competitive that the industry is shrouded in secrecy, but the market still values the company at more than $16bn despite no promise of real revenue for many years to come.
It will be years before any battery breakthroughs reach the mass market. But it's already virtually certain that rising demand for existing lithium-ion batteries will be exponential and can be matched by manufacturers only if the materials used to make batteries - primarily lithium, cobalt , and nickel - are also supplied adequately. These curves will become steeper in the decade ahead. Take a look at the charts below that show where things are headed.
Batteries
Electrification has become a key theme for automakers in the US and Europe. While it was barely mentioned a decade ago, company executives are increasingly talking up batteries and electric vehicles to investors.
Lithium
The rapid decline of battery costs over the past decade has surprised even the most optimistic analysts. That has played a crucial role in opening up new markets for batteries to find applications.
Electric Vehicles
Electric cars will be the biggest force behind the boom in demand for batteries this decade. But batteries will also increasingly be used for smaller vehicles like scooters, commercial vehicles and to store electricity from the grid.
Investment
The decline in battery prices have helped grow the investment case for storing electricity. Companies and financial firms are now investing over $100 billion a year on energy storage and the electrification of transportation.
Energy
All the energy stored in a growing number of batteries will require a significant increase in a few key metals, lithium, cobalt and nickel.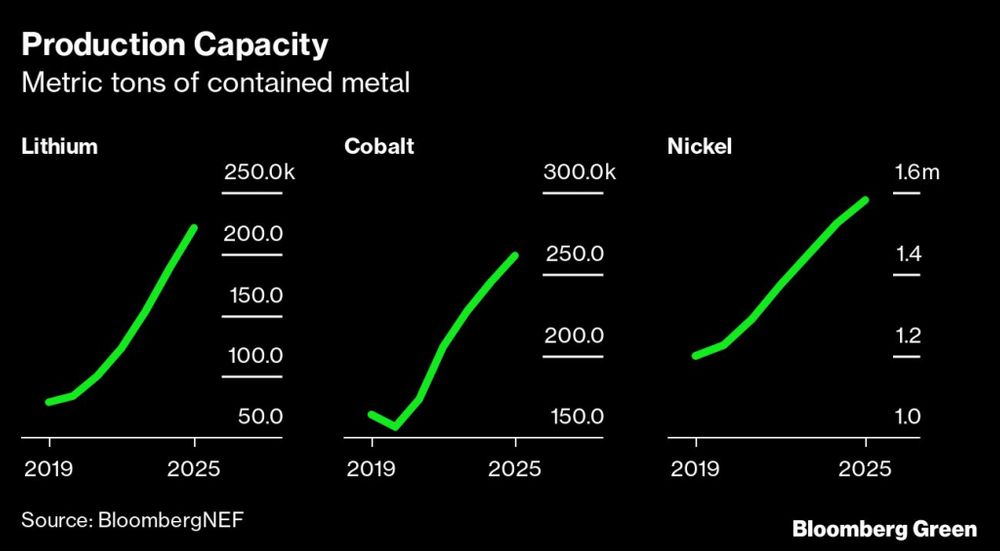 (By Will Mathis and Akshat Rathi)