Mining equipment + Internet of Things
4 min
In the 2011 film Limitless, a struggling writer obtains a mysterious pill that enables him to access 100 percent of his brain abilities, helping him to...
In the 2011 film Limitless, a struggling writer obtains a mysterious pill that enables him to access 100 percent of his brain abilities, helping him to reap monetary benefits by becoming a financial wizard. For the mining industry, that mysterious pill is the Internet of Things.
The introduction
Widely credited to Kevin Aston while working at Proctor & Gamble in 1999, the Internet of Things (loT) refers to a giant network of connected objects or "things." These connected things, which can vary from a smartphone to a mining truck, utilize embedded technology to transfer data over a network without requiring human-to-human or human-to-computer interaction. In fact, the concept aims to utilize analytics in order to replace the human decision-making process altogether.
The mining industry has turned the innovation dial up in the past few years, implementing newer and more diverse technologies to solve age-old questions. The big potential for loT in the mining industry lies in the equipment it uses. 
• Related content: [VIDEO] Joy Global and the Internet of Things
In recent years, mining companies have begun equipping machinery with unique sensors and software to collect data from everyday activities. This "big data" is now emerging as potential information that can be analyzed and utilized to allow manufacturers the ability to predict and eliminate potential problems. The Internet of Things has the power to take mining equipment and operations to new heights.
Technology research consultant Gartner Inc. expects the number of connected products in the mining industry to rise from 24 million in 2014 to 90 million by 2020. According to the consultant firm, the 25 percent increase in mining connectivity is among the fastest in the industry sectors.
New era for mining
The Internet of Things is expected to ring in a new era for mining operations and equipment. With the way things are going for the commodities sector, it couldn't be any sooner.
"Ten years ago, these were dumb bits of equipment. If the computer in the office fell over, who cared? Now underground mines are full of optical fiber and bits of equipment that talk to one another," said Mike Elliot of EY in Australia.
For one, loT will assist in the predictive/preventative maintenance for mining vehicles, which has become increasingly important in recent times. Through the use of sensors, companies will have the ability to monitor everything from fluid temperatures, engine speed, gear position and brake pressure. Information from the sensors will be relayed to a remote monitoring center that will then alert the equipment operator of potential trouble before it happens. The technology will provide data analytics of the truck performance data to prevent unnecessary maintenance events and to reduce the time to repair the truck during unplanned maintenance events. 
• Related content: Is the Internet of Things the next wave for the mining industry?
Similar to the film, loT also has the ability to empower mining equipment in order to function and operate with optimal efficiency.
"Lots of these machines have been sending data for more than 30 years, but we did not have the ability to use it," says Al Frese, solutions and technology manager for mining sales and support at Caterpillar. "Now we have that and can do it effectively across many different sites."
US-based Caterpillar Inc. is a major player investing in the Internet of Things. Last year, the company spent $2.14 billion on product-oriented research and development alone.
Rob Charter, a group president at Caterpillar, has said that the company wants to surround customers with a tech-savvy suite of products and services. It's about moving beyond simply making machines, he's noted.
"Originally, when we built product, it was about the product," Charter said. "What we think about all the time these days—and you'll see it more and more in people's thinking—is how do we make a customer successful? And if they're successful and they rely on us, then we're successful."
Unlimited potential
The Internet of Things is expected to take the mining industry into a new helm of operational excellence.
In its 2013 report called Disruptive Technologies: Advances that will Transform Life, Business and the Global Economy, the McKinsey Global Institute stated that the Internet of Things will be largely used by the mining industry in the near future for data collection, monitoring process, decision-making and optimizing workflows.
• Related content: [VIDEO] Caterpillar Invests in Uptake to Develop Analytics Solutions
For the mining industry, the Internet of Things holds unlimited potential as the future could consist of flying drones, automatic drill rigs, trains and driverless trucks. The technology will not only optimize processes, but it will prevent accidents, predict maintenance and even help companies conserve their resources like water and electricity.
NFL coaching legend Vince Lombardi once said: "Perfection is not attainable. But if we chase perfection, we can catch excellence."
With the mining industry adopting new technologies and taking loT under its wing, the industry could reach new levels in coming years. 
Stay connected! Follow us on Twitter and like us on Facebook 
Battery-powered future depends on a few crucial metals
2 min
Meeting the rising demand for lithium-ion batteries depends on lithium, cobalt and nickel production...
In the big, exciting future that's measured in kilowatt- and gigawatt-hours, batteries are enabling mass electrification across many sectors. The rapid decline in battery prices has ensured burgeoning interest from electric-vehicle makers and consumer-electronics manufacturers- even from the energy industry, for enormous stationary storage systems operating on the power grid.
Companies such as QuantumScape Corp. are developing next-generation batteries that could accelerate the transition. The field is so competitive that the industry is shrouded in secrecy, but the market still values the company at more than $16bn despite no promise of real revenue for many years to come.
It will be years before any battery breakthroughs reach the mass market. But it's already virtually certain that rising demand for existing lithium-ion batteries will be exponential and can be matched by manufacturers only if the materials used to make batteries - primarily lithium, cobalt , and nickel - are also supplied adequately. These curves will become steeper in the decade ahead. Take a look at the charts below that show where things are headed.
Batteries
Electrification has become a key theme for automakers in the US and Europe. While it was barely mentioned a decade ago, company executives are increasingly talking up batteries and electric vehicles to investors.
Lithium
The rapid decline of battery costs over the past decade has surprised even the most optimistic analysts. That has played a crucial role in opening up new markets for batteries to find applications.
Electric Vehicles
Electric cars will be the biggest force behind the boom in demand for batteries this decade. But batteries will also increasingly be used for smaller vehicles like scooters, commercial vehicles and to store electricity from the grid.
Investment
The decline in battery prices have helped grow the investment case for storing electricity. Companies and financial firms are now investing over $100 billion a year on energy storage and the electrification of transportation.
Energy
All the energy stored in a growing number of batteries will require a significant increase in a few key metals, lithium, cobalt and nickel.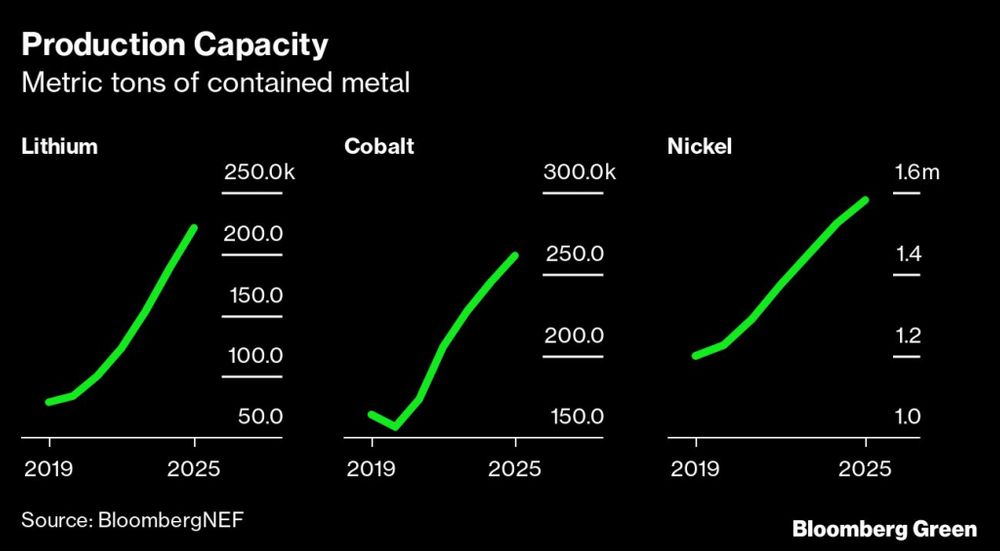 (By Will Mathis and Akshat Rathi)