OceanaGold's Haile drill and blast team gets remote tech
2 min
The drill and blast team at the Haile Gold Mine is set to use innovative remote technology to aid its blast hole drilling techniques...
The drill and blast team at the Haile Gold Mine is set to use innovative remote technology to aid its blast hole drilling techniques.
The Haile Gold Mine, which is owned by OceanaGold, is set to be the first in the United States to utilise Epiroc's new remote control drilling technology, known as BenchREMOTE.
Being based in South Carolina, which is subject to extreme weather conditions including heat wind and rain, Haile workers can be exposed to very harsh conditions at times.
Epiroc's technology is set to provide operators with numerous benefits. It will enhance health & safety as it will require operators to work from safer distances in a better environment, it also has the ability to handle three rigs in parallel. The technology also allows the operator station to be placed up to 100 metres away from the drills.
New drills have also been purchased by Haile, including two Epiroc D65 drills, BD7 and BD8, in 2019, which are all fully compatible with the firm's technology.
Aaron Kash, Haile Drill and Blast General Supervisor, said: "When we bought the equipment from Epiroc, I reached out to our local ATC trailer dealer and had them bring up the specs of a similar trailer, we made a few changes – making it a little longer, equipping it with a bigger A/C unit to withstand the heat, and upgraded the generator", he explained.
Although health and safety, and improved working conditions are the main obvious benefits of the technology, Epiroc's BenchREMOTE is also set to boost productivity within the Haile Gold Mine, as one driller is now able to operate a total of three machines simultaneously.
Kash went on to say: "With the development of the new Haile Pit, we are encountering historic workings. We may want to drill into an area with little cover to see what's there, but we don't want to risk putting somebody physically in the drill".
Battery-powered future depends on a few crucial metals
2 min
Meeting the rising demand for lithium-ion batteries depends on lithium, cobalt and nickel production...
In the big, exciting future that's measured in kilowatt- and gigawatt-hours, batteries are enabling mass electrification across many sectors. The rapid decline in battery prices has ensured burgeoning interest from electric-vehicle makers and consumer-electronics manufacturers- even from the energy industry, for enormous stationary storage systems operating on the power grid.
Companies such as QuantumScape Corp. are developing next-generation batteries that could accelerate the transition. The field is so competitive that the industry is shrouded in secrecy, but the market still values the company at more than $16bn despite no promise of real revenue for many years to come.
It will be years before any battery breakthroughs reach the mass market. But it's already virtually certain that rising demand for existing lithium-ion batteries will be exponential and can be matched by manufacturers only if the materials used to make batteries - primarily lithium, cobalt , and nickel - are also supplied adequately. These curves will become steeper in the decade ahead. Take a look at the charts below that show where things are headed.
Batteries
Electrification has become a key theme for automakers in the US and Europe. While it was barely mentioned a decade ago, company executives are increasingly talking up batteries and electric vehicles to investors.
Lithium
The rapid decline of battery costs over the past decade has surprised even the most optimistic analysts. That has played a crucial role in opening up new markets for batteries to find applications.
Electric Vehicles
Electric cars will be the biggest force behind the boom in demand for batteries this decade. But batteries will also increasingly be used for smaller vehicles like scooters, commercial vehicles and to store electricity from the grid.
Investment
The decline in battery prices have helped grow the investment case for storing electricity. Companies and financial firms are now investing over $100 billion a year on energy storage and the electrification of transportation.
Energy
All the energy stored in a growing number of batteries will require a significant increase in a few key metals, lithium, cobalt and nickel.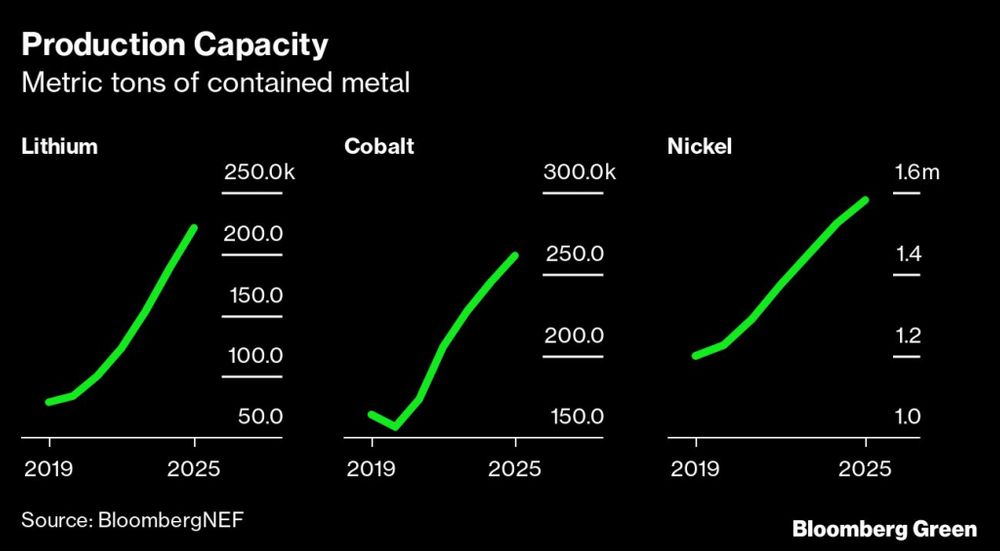 (By Will Mathis and Akshat Rathi)