REPORT: RPM Partners with Sinapse for Project Implementation In Australia
1 min
Mining solutions provider RungPincockMinarco (RPM) announced yesterday it has partnered with Sinapse, a leading IT systems integrator, for software impl...
Mining solutions provider RungPincockMinarco (RPM) announced yesterday it has partnered with Sinapse, a leading IT systems integrator, for software implementation projects across Australia's mining industry.
The strategic partnership, which aligns perfectly with RPM's software integration plan, will allow the company to fortify its enterprise solutions, giving it the capability to take on larger projects.
"Our partnership with Sinapse will help to strengthen our implementation capabilities, allow us to take on even bigger and more complex projects and deliver greater value to our clients," said Director of Software Craig Haliday.
Based in Australia, Sinapse is a management consulting, technology and systems integration company with specialized competencies in business strategy and advisory, enterprise systems implementations, knowledge management, and business intelligence and organization effectiveness.
"With our broad industry experience I am certain this partnership will enable us to deliver streamlined software implementations that see clients reaping the benefits of RPM's market leading products in the shortest timeframes possible," said Sinapse partner Noel Thurlow
With the partnership in place, Sinapse will work closely with RPM's team of software implementation consultants and leverage its knowledge of complex ERP environments to provide customers with RPM's suite of products.
"We have an established technical team who has deep domain experience. Combining this with Sinapse's ERP integration expertise will help us to deliver significant benefits for our clients," Halliday said.
Battery-powered future depends on a few crucial metals
2 min
Meeting the rising demand for lithium-ion batteries depends on lithium, cobalt and nickel production...
In the big, exciting future that's measured in kilowatt- and gigawatt-hours, batteries are enabling mass electrification across many sectors. The rapid decline in battery prices has ensured burgeoning interest from electric-vehicle makers and consumer-electronics manufacturers- even from the energy industry, for enormous stationary storage systems operating on the power grid.
Companies such as QuantumScape Corp. are developing next-generation batteries that could accelerate the transition. The field is so competitive that the industry is shrouded in secrecy, but the market still values the company at more than $16bn despite no promise of real revenue for many years to come.
It will be years before any battery breakthroughs reach the mass market. But it's already virtually certain that rising demand for existing lithium-ion batteries will be exponential and can be matched by manufacturers only if the materials used to make batteries - primarily lithium, cobalt , and nickel - are also supplied adequately. These curves will become steeper in the decade ahead. Take a look at the charts below that show where things are headed.
Batteries
Electrification has become a key theme for automakers in the US and Europe. While it was barely mentioned a decade ago, company executives are increasingly talking up batteries and electric vehicles to investors.
Lithium
The rapid decline of battery costs over the past decade has surprised even the most optimistic analysts. That has played a crucial role in opening up new markets for batteries to find applications.
Electric Vehicles
Electric cars will be the biggest force behind the boom in demand for batteries this decade. But batteries will also increasingly be used for smaller vehicles like scooters, commercial vehicles and to store electricity from the grid.
Investment
The decline in battery prices have helped grow the investment case for storing electricity. Companies and financial firms are now investing over $100 billion a year on energy storage and the electrification of transportation.
Energy
All the energy stored in a growing number of batteries will require a significant increase in a few key metals, lithium, cobalt and nickel.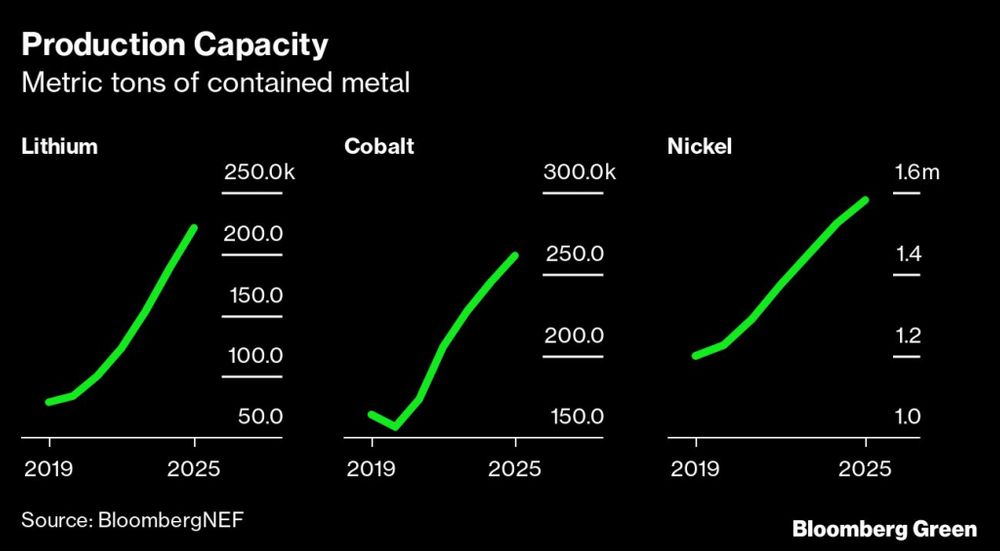 (By Will Mathis and Akshat Rathi)