[SLIDESHOW] Barrick Gold Looks to Innovations to Solve Energy Cost Challenges
3 min
Minings latest industry trend demonstrates that not only are energy costs rising, but that companies around the world are looking ahead to the next step...
Mining's latest industry trend demonstrates that not only are energy costs rising, but that companies around the world are looking ahead to the next step forward in mining innovation. Barrick Gold, one of these industry forward-thinkers, has experienced these rising energy costs firsthand with its $1 billion energy cost totals in 2010 totaling almost $1.5 billion in 2013.
"We're moving huge amounts of material around bigger operations, so our energy costs are mounting while gold grades are declining," says Peter Kondos, Senior Director of Barrick's Strategic Technology Solutions (STS) group. "We need to start doing things differently."
Barrick is looking to its design and engineering staff to find ways around these industry-wide roadblocks, in hopes of combating these rising energy costs with more efficient industry procedures. Peter Kondos, head of Barrick's Strategic Technology Solutions group, is charged with the task of developing pragmatic solutions to address these industry changes.
"On the practical side, we find solutions to problems and help implement them," Kondos says. "On the conceptual side, we're trying to unlock mining's new frontiers for future generations."
With the recent 28 percent drop in the price of gold, companies like Barrick are looking to innovation to answer its series of never-ending questions and are shifting their focus from production growth to conserving costs and thinking about how they are mining. One new innovation employed by Barrick considers the ways in which it collects and analyzes mining data. Effective data analysis is already projected to save Barrick, and other who choose to employ it, hundreds of millions of dollars.
Russel Blades, Senior Manager with the STS Group says, "We can analyze information, explain what we found and help the mine sites improve their operations from an energy standpoint."
Another key innovation Barrick has pinpointed is how it moves ore and its other heavy materials around mine sites. By looking at the ways to bridge the technology gap, Barrick is researching the most effective ways to utilize haul trucks and other company infrastructure.
"Haul trucks are getting bigger and bigger," Blades says. "And it's important to understand that you're not just using energy to move ore, you're using it to move those bigger and heavier trucks. That increases your fuel costs substantially."
Barrick has addressed this industry-wide concern, and is now hard at work developing new technologies and field innovations to cater to this demand in the most conservative and cost-effective way possible. A third solution has been developed, using conveyor belts or "rail-veyors" to move material between mine sites, on an automated haulage system on a light rail track.
These three innovations (mining data, transport, and new technology) have already proven to be beneficial for Barrick in addressing industry demands and supplementing costly expenses. Others within the industry are looking to these innovations as examples of continuous improvement, as this trend of rising energy costs continues to effect mining companies worldwide.
Battery-powered future depends on a few crucial metals
2 min
Meeting the rising demand for lithium-ion batteries depends on lithium, cobalt and nickel production...
In the big, exciting future that's measured in kilowatt- and gigawatt-hours, batteries are enabling mass electrification across many sectors. The rapid decline in battery prices has ensured burgeoning interest from electric-vehicle makers and consumer-electronics manufacturers- even from the energy industry, for enormous stationary storage systems operating on the power grid.
Companies such as QuantumScape Corp. are developing next-generation batteries that could accelerate the transition. The field is so competitive that the industry is shrouded in secrecy, but the market still values the company at more than $16bn despite no promise of real revenue for many years to come.
It will be years before any battery breakthroughs reach the mass market. But it's already virtually certain that rising demand for existing lithium-ion batteries will be exponential and can be matched by manufacturers only if the materials used to make batteries - primarily lithium, cobalt , and nickel - are also supplied adequately. These curves will become steeper in the decade ahead. Take a look at the charts below that show where things are headed.
Batteries
Electrification has become a key theme for automakers in the US and Europe. While it was barely mentioned a decade ago, company executives are increasingly talking up batteries and electric vehicles to investors.
Lithium
The rapid decline of battery costs over the past decade has surprised even the most optimistic analysts. That has played a crucial role in opening up new markets for batteries to find applications.
Electric Vehicles
Electric cars will be the biggest force behind the boom in demand for batteries this decade. But batteries will also increasingly be used for smaller vehicles like scooters, commercial vehicles and to store electricity from the grid.
Investment
The decline in battery prices have helped grow the investment case for storing electricity. Companies and financial firms are now investing over $100 billion a year on energy storage and the electrification of transportation.
Energy
All the energy stored in a growing number of batteries will require a significant increase in a few key metals, lithium, cobalt and nickel.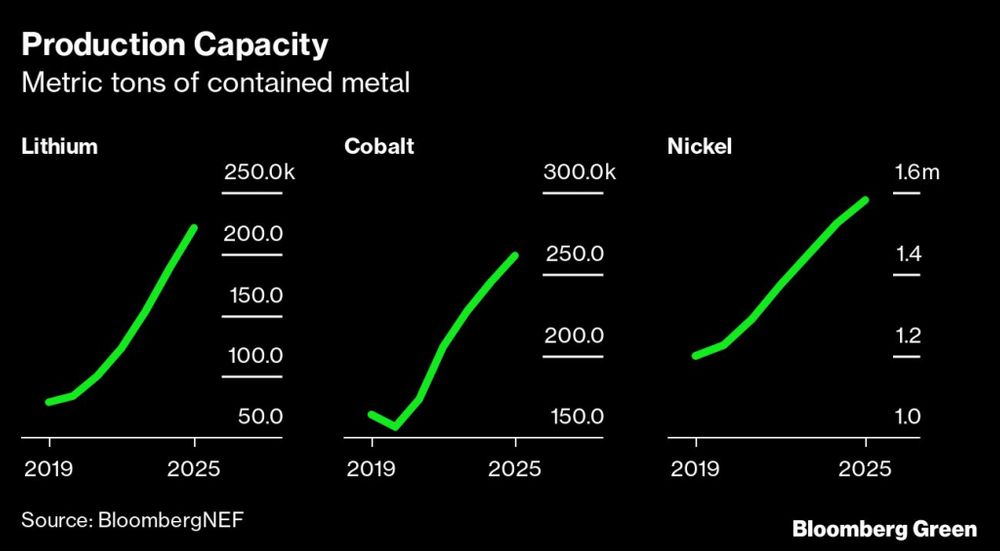 (By Will Mathis and Akshat Rathi)