Smart commodity management with Eka Software Solutions
2 min
Eka Software Solutions, the leading global provider of Smart Commodity Management software solutions, has been crowned the IT and Software Solution of t...
Eka Software Solutions, the leading global provider of Smart Commodity Management software solutions, has been crowned the IT and Software Solution of the Year - Business Intelligence Category by Corporate Vision magazine.
The award comes in recognition of the company's ground-breaking Commodity Analytics Cloud solution, which aggregates information from across the value chain and uses predictive analytics to enable faster, fact-based decision making for commodity market participants. 
Corporate Vision is dedicated to working around the clock to uncover the best performing and most deserving companies and individuals from around the business world.
The award seeks to recognise outstanding achievement, game-changing innovation, and stellar performance, and all of the awards are carefully evaluated to provide detailed and in-depth analysis of the very best each market, industry, sector and region has to offer.
Award winners are chosen based on votes gathered from Corporate Vision's network of respected industry partners and rigorous in-house research. Each award recipient is carefully judged based on their performance over the past 12 months and their commitment to innovation.
"Eka is proud that Commodity Analytics Cloud was voted IT and Software Solution of the Year - Business Intelligence," said Michael Schwartz, chief marketing officer at Eka.
"Commodity Analytics Cloud offers a level of data integration and analysis far beyond other solutions in the market. Using the power of machine learning and advanced algorithms, Commodity Analytics Cloud analyses data from disparate systems throughout the value chain to provide deeper visibility and insight, enabling our clients to make faster, better, fact-based decisions. Our innovative, app-based platform is easy to use, provides user-defined analytics, and is accessible on any mobile device."
Commodity Analytics Cloud is an advanced analytics solution that brings commodity-specific analytics to all business users. It quickly processes large volumes of data from different sources – internal systems such as ETRM, CTRM, ERP, CRM, and spreadsheets, plus external sources such as market curves and weather data – providing an end-to-end analysis of the entire enterprise. Commodity Analytics Cloud's apps span multiple categories including position consolidation, risk, supply chain, P&L evaluation and attribution, procurement, margin analysis, and plan performance.
Commodity Analytics Cloud sales increased over 400 percent in 2016, as commodity market participants turned to advanced analytics to make sense of the volume, variety, and velocity of data generated each day. With the advent of smart machinery, the Internet of Things, and social sharing, companies are overwhelmed by data. Commodity Analytics Cloud's powerful algorithms analyse all available data to deliver unprecedented business intelligence to commodity market participants.
The January 2017 issue of Mining Global is live!
Follow @MiningGlobal
Get in touch with our editor Dale Benton at [email protected]
Battery-powered future depends on a few crucial metals
2 min
Meeting the rising demand for lithium-ion batteries depends on lithium, cobalt and nickel production...
In the big, exciting future that's measured in kilowatt- and gigawatt-hours, batteries are enabling mass electrification across many sectors. The rapid decline in battery prices has ensured burgeoning interest from electric-vehicle makers and consumer-electronics manufacturers- even from the energy industry, for enormous stationary storage systems operating on the power grid.
Companies such as QuantumScape Corp. are developing next-generation batteries that could accelerate the transition. The field is so competitive that the industry is shrouded in secrecy, but the market still values the company at more than $16bn despite no promise of real revenue for many years to come.
It will be years before any battery breakthroughs reach the mass market. But it's already virtually certain that rising demand for existing lithium-ion batteries will be exponential and can be matched by manufacturers only if the materials used to make batteries - primarily lithium, cobalt , and nickel - are also supplied adequately. These curves will become steeper in the decade ahead. Take a look at the charts below that show where things are headed.
Batteries
Electrification has become a key theme for automakers in the US and Europe. While it was barely mentioned a decade ago, company executives are increasingly talking up batteries and electric vehicles to investors.
Lithium
The rapid decline of battery costs over the past decade has surprised even the most optimistic analysts. That has played a crucial role in opening up new markets for batteries to find applications.
Electric Vehicles
Electric cars will be the biggest force behind the boom in demand for batteries this decade. But batteries will also increasingly be used for smaller vehicles like scooters, commercial vehicles and to store electricity from the grid.
Investment
The decline in battery prices have helped grow the investment case for storing electricity. Companies and financial firms are now investing over $100 billion a year on energy storage and the electrification of transportation.
Energy
All the energy stored in a growing number of batteries will require a significant increase in a few key metals, lithium, cobalt and nickel.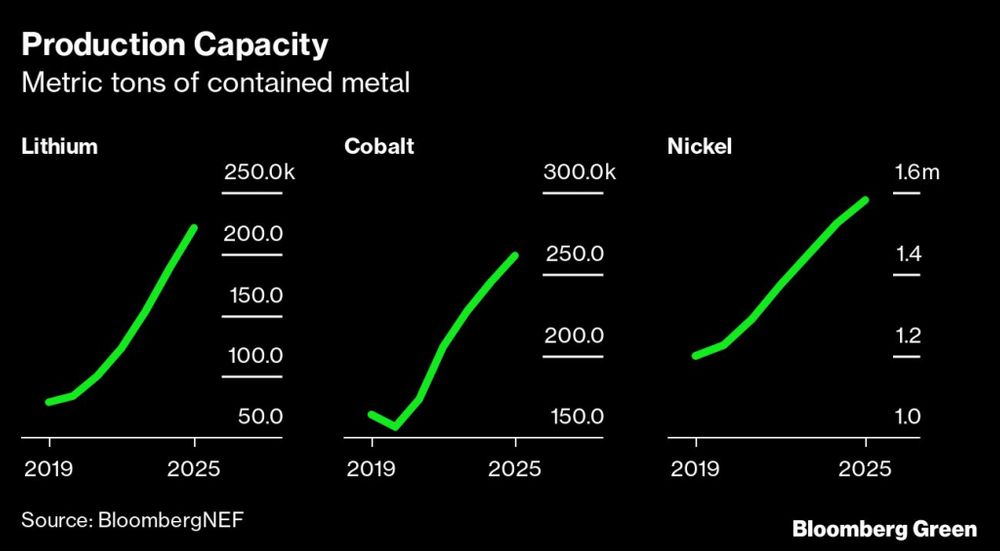 (By Will Mathis and Akshat Rathi)