Is There Money to Be Made in Wastewater Treatment?
2 min
The mining industry is no stranger to the devastating effects of mine wastewater. Pollution in rivers and streams and countless deaths among aquatic lif...
The mining industry is no stranger to the devastating effects of mine wastewater. Pollution in rivers and streams and countless deaths among aquatic life have put companies under immense pressure to properly maintain, control and dispose of contaminants from their operations.
• Chile Develops New Plant-Based Technology for Mining Waste
• New Technology Helps to Eliminate Mining Wastewater by 90 Percent
Historically, recovering metals in wastewater has been categorized as a business cost for mining companies. It meant a substantial upfront investment in infrastructure coupled with higher energy and chemical costs which equated to one thing: more money. But is it worth it?
"[Mining firms] are pretty much stuck with treating the wastewater whether it's economic or not," says Adrian Brown, a wastewater consultant. "So suddenly any metal recovery is beneficial in the sense that it has the ability to either reduce your project costs or, at the very least, to dispose of the extracted material from your project at zero or no cost."
In recent years, advances in metal-removal technology have shown there's money to be made.
"In the large majority of mining waste, the metals of value are mixed in a cocktail that contains basically the whole periodic table of elements. A lot of these elements have no value and some of them [won't] be removed because they are not toxic," said David Kratochvil, interim chief executive at BioteQ Environmental Technologies.
"The trick is to be able to select the metals of value from this cocktail."
The most frequent method for treating mine wastewater is lime neutralization. It removes the acidity but the downfall is it also makes it very difficult to extract individual metals.
One of the newest technological options for miners is sulphide precipitation. This transforms the metals in wastewater into high-grade solid metal sulphides that can be sold or disposed of.  Swiss mining companies Glencore is one of the first to employ this tool to treat mine drainage.
Along with newer technologies, Kratochvil believes policymakers can (and should) play a pivotal role in metal recovery.
"It's remarkable how perceptions of environmental liability have changed [but] our struggle is finding the incentives for mining companies to really innovate," he says.
Battery-powered future depends on a few crucial metals
2 min
Meeting the rising demand for lithium-ion batteries depends on lithium, cobalt and nickel production...
In the big, exciting future that's measured in kilowatt- and gigawatt-hours, batteries are enabling mass electrification across many sectors. The rapid decline in battery prices has ensured burgeoning interest from electric-vehicle makers and consumer-electronics manufacturers- even from the energy industry, for enormous stationary storage systems operating on the power grid.
Companies such as QuantumScape Corp. are developing next-generation batteries that could accelerate the transition. The field is so competitive that the industry is shrouded in secrecy, but the market still values the company at more than $16bn despite no promise of real revenue for many years to come.
It will be years before any battery breakthroughs reach the mass market. But it's already virtually certain that rising demand for existing lithium-ion batteries will be exponential and can be matched by manufacturers only if the materials used to make batteries - primarily lithium, cobalt , and nickel - are also supplied adequately. These curves will become steeper in the decade ahead. Take a look at the charts below that show where things are headed.
Batteries
Electrification has become a key theme for automakers in the US and Europe. While it was barely mentioned a decade ago, company executives are increasingly talking up batteries and electric vehicles to investors.
Lithium
The rapid decline of battery costs over the past decade has surprised even the most optimistic analysts. That has played a crucial role in opening up new markets for batteries to find applications.
Electric Vehicles
Electric cars will be the biggest force behind the boom in demand for batteries this decade. But batteries will also increasingly be used for smaller vehicles like scooters, commercial vehicles and to store electricity from the grid.
Investment
The decline in battery prices have helped grow the investment case for storing electricity. Companies and financial firms are now investing over $100 billion a year on energy storage and the electrification of transportation.
Energy
All the energy stored in a growing number of batteries will require a significant increase in a few key metals, lithium, cobalt and nickel.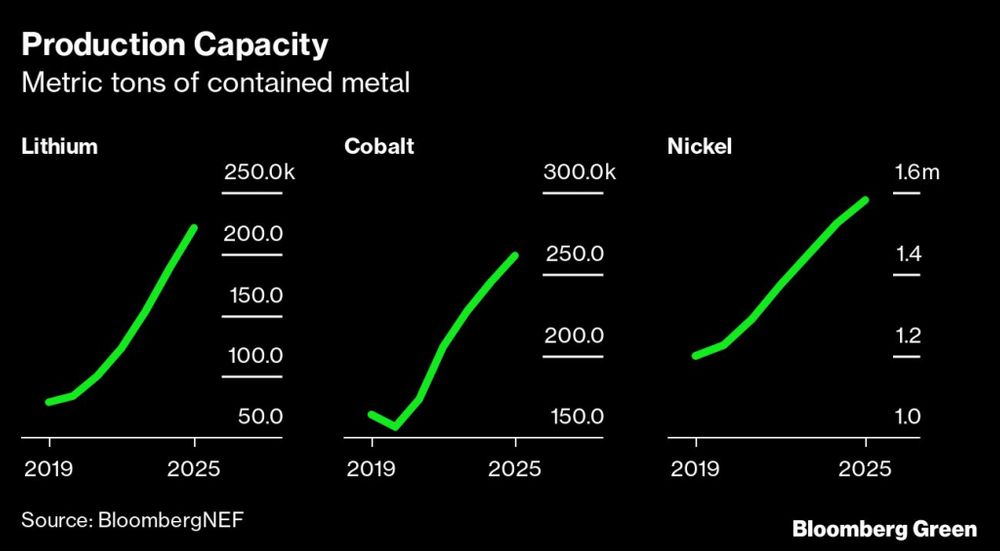 (By Will Mathis and Akshat Rathi)